JUVENTUS - REAL MADRID
Chiellini: "Sergio Ramos is the best centre-back in the world"
The central defender from Juventus believes that Sergio Ramos is the best central defender in the world and that Lionel Messi is untouchable.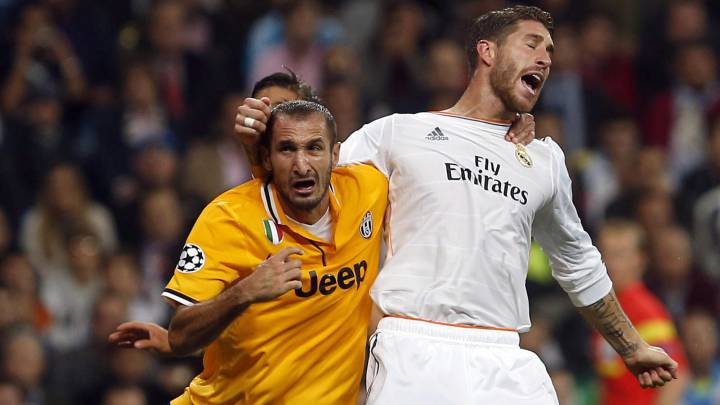 Juventus defender, Giorgio Chiellini, was interviewed by El Mundo before his Juventus side play Real Madrid in the quarter-final of the Champions League on Tuesday night in Turin. He admitted that Sergio Ramos is the best defender in the world and also looked at the comparison between Ronaldo and Messi.
Sergio Ramos: "You have to learn from the best, of course, but never impersonate them. I will never have the technique or the explosiveness of Sergio Ramos. He is the best central defender in the world and he knows how to play the games that really count."
Piqué: "In Spain too, there's Piqué, who had the good fortune to play together with Puyol. Now, with Umtiti, they have created a partnership at the highest level. Valverde has found a defensive unit that Barca didn't have before."
Puyol: "Puyol was the player was going against the currant of Barca that was Xavi and Iniesta, but he was necessary for their system."
Your doctoral thesis is about Juve: "I compared the economic model of Juventus to others, like Real Madrid."
Juve ar not competitive economically: "We have to advance to be at the marketing level of Manchester United, Real Madrid and Barcelona. With economic power, I am sure that Juventus will in position in the next few years to buy Neymar."
Cristiano: "He changed his way to play, I don't know if it was because of the injury in the Euros or to save energy. Before, he was a number seven for most of his career and now he is a monstrous number nine."
Messi: "It doesn't show but he is really different from Cristiano. He has unreal speed starting from zero. He always goes where he can cause damage and break you. He is untouchable."
On Luis Suarez: "We've met on the field and it's been a pleasure as he's a great striker and it's always a challenge. I'd like to swap shirts with him. His sanction, with not being allowed into stadiums was a bit exaggerated. It was an example of what the World Cup means."



LaLiga Santander
*Update 2 de abril de 2018