Heerenveen and Vitesse scrap it out to secure Ødegaard loan
Week 2 of the Eredivisie will witness a fixture between two of the possible clubs Real Madrid have in mind to take the Norwegian on loan this season.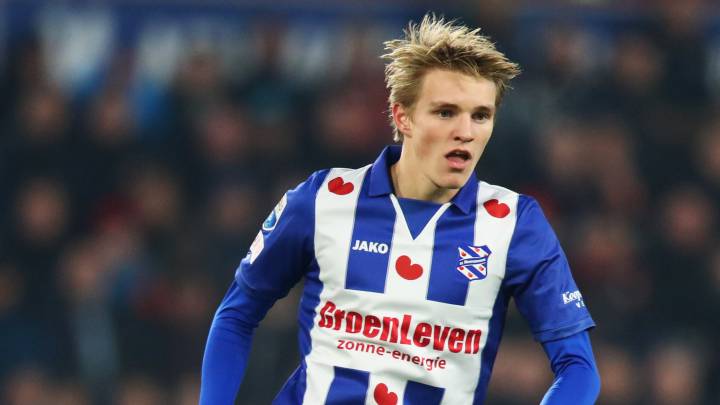 After completing the pre-season with Real Madrid's first team squad, and enjoying a decent amount of playing time in all of the three friendlies during the US Tour, Martin Ødegaard didn't take to the pitch in the Trofeo Bernabéu meeting with AC Milan nor did he enter the 29-man list for the UEFA Super Cup in Tallin.
Holland, a viable option
That suggests that once again he will be loaned out although it remains to be determined where he will spend the new season. Ødegaard has perfoemed to a high level in Holland's Eredivisie, a league where he looks comfortable and has the opportunity to recover his best qualities.
The two clubs battling to take him on loan for 2018/19 are Heerenveen and SBV Vitesse, who curiously, meet on Sunday afternoon to bring the weekend action in the Dutch league to a close. In Spain, it is taken as read that the midfielder will return to Heerenveen but the local media in Holland have not ruled out Vitesse as his next destination.
Slutski after a creative midfielder
Vitesse coach Leonid Slutski confirmed that the club was negotiating with Madrid for Ødegaard and added that "I hope [a loan agreement] will be made official soon". Slutski explained: "I am looking for a creative No.10 - a good passer of the ball who has vision and can score. Ødegaard is a great player in that position. He's got everything you need to fit into that role. But nothing's been signed so I cannot say any more on the matter". Vitesse's idea is that Ødegaard will be the natural replacement for Mason Mount, Chelsea's youth team promise who shone for Vitas last season scoring 13 goals and creating another 10.