NATIONS LEAGUE
Spain - Croatia match report: UEFA Nations League
Spain dismanelted the World Cup finalist with goals from Saúl, Asensio, an own-goal from Kalinic (from an Asensio blast off the bar), Rodrigo, Ramos and Isco.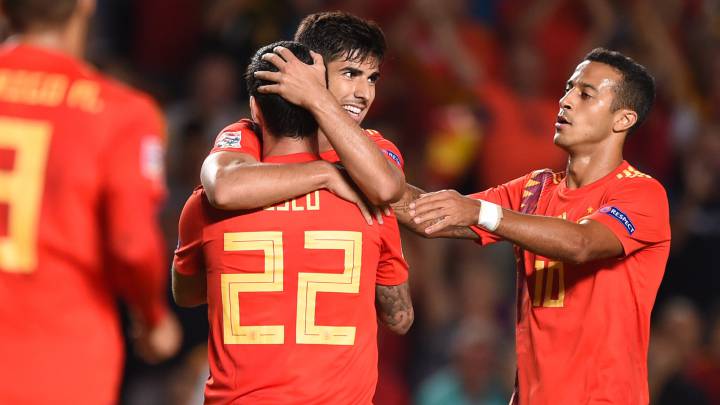 Spain 6-0 Croatia: match report
Luis Enrique's two games in charge of Spain have inspired two impressive performances proving they have changed their style of play enough to cause problems for opposing teams' goals. The big takeaway, however, is six points although the mauling they gave Croatia on Tuesday night was a statement worth taking notice of too. If the World Cup caused a hangover, the impressive manner in which they beat Croatia on Tuesday night was a big glass of water, two ibuprofen and an afternoon nap. Spain are back.
The return of Elche's prodigal son did not disappoint either as a sup-plot to the game. Saúl couldn't wait to take to the field with a disappointing World Cup in the rear-view mirror but with an awesome display against England a little fresher in the memory. He scored his first goal for Spain in that game on Saturday at Wembley and he got his second against Croatia on Tuesday night.
A lovely diagonal ball from Sergio Ramos into Dani Carvajal's path started the move. The right-back lofted one into the box and Saúl's run from deep was unstoppable. His header down into the ground and into the back of the net wasn't to be stopped either.
It was a man who hails from an island just off the east coast of Spain, about 400 kilometres from where the game was played, who stole the spotlight as the half wore one though. Marco Asensio slammed home a shot from an errant pass across Croatia's midfield by the visiting side and Spain, who had looked shaky at the back before the opener, were now cruising.
Just two minutes later, Asensio reloaded. His left-footed shot rifled off the crossbar and hit Kalinic's back before rolling over the line. It went down as an own-goal but it was a thing created entirely by the attacker.
The second half continued as the first half transpired. Asensio got himself an assist when he sent Rodrigo through only for the striker to send hit shot beyond Kalinic.
Sergio Ramos continued his fine scoring start to the season with his fourth in six games when he headed home from a corner. It was 5-0 and Croatia were ready to call it a night even though there was still 33 minutes left.
Isco got in on the act when he swivelled in the box from an Asensio pass and he passed the ball into the top corner with precision. Asensio had a hat-trick of goals and two himself in an incredible display of attacking authority.
As far as statements go, this was comprehensive and Spain were relentless too. It proves that they have enough to work with to compete seriously for honour under Luis Enrique. After a World Cup wedged with controversy, most of that ill feeling is washed away.
As for Croatia, the good vibes they built up on their way to a World Cup final are mostly gone too. Was the competition poor? Was it a fluke, a flash in the pan?
That's hard to tell but the result in the Estadio Martinez Valero on Tuesday night was not ambiguous and neither is Spain's start under Luis Enrique.
Spain - Croatia live online: updates
90'   Game over as the game his peters out.
90'   Spain want more. A shot rifled in by Thiago and that's saved onto Rodrigo's foot. Saved. Corner.
87'   The football gods have mercy. Azpilicueta with a neat pullback to Isco. He sidefoots it at Kalinic and that's saved and out by Vida.
85'   Yet another chance. Spain are just getting chances time and time again. Croatia are deflated.
82'   Nasty one on Ramos. He is down holding his face. Collision with Perisic. Unfortunate clash of heads. Free for Spain but nothing more.
80'   Corner for spain. Azpilicueta forces the issue. Spain with another chance.
78'   Gaya fouled by Kovacic. Frustration continues for Croatia. They can't even get an attack going without something going awry.
75'   Ball in from Asensio now on the right. It's blocked away by Croatia. They are under serious pressure here and they have capitulated. 
71' Carvajal off for Azpilicueta. 
70'   This is Croatia's worst ever defeat.
70' Asensio ball to Isco. In the box and he just drives it home. 
68'   Santini with the lamest, most pathetic lobbed effort. It just falls into De Gea's arms.
67'   Modric ball into Santini but he can't control it.
66'   Croatia are shocked. They are really struggling. 
66' Saúl off to a standing ovation. On comes Thiago.
63'   This is all Spain now.
60' Ceballos has been really excellent tonight too. He turns and frees himself before passing to open the field out to Rodri. Ball into Rodrigo and it's out for another corner.
50'   Rodri replaces Busquets for Spain. His second appearance in a Spain shirt.
50'   Vida didn't even jump for that.
50' Ramos! GOAL! He heads home and that is absolutely handy. He's unmarked. This is turning into a proper hiding. 
50'   Rodrigo strikes again and Vida blocks it out for another corner.
50'   Rodrigo bundled over in the box. Ball came in from the left but that's a corner instead of a penalty, which is what the striker wanted.
49' GOAL! Rodrigo makes it 4-0. This is a hammering.
48'   Ramos tries a different approach. This one is sent out to Gaya and he crosses. Cleared by Croatia. 
47'   Spain bossing possession to start. That ball from Ramos to Carvajal again almost provides dividends.
46'   We are back underway in Elche.
    Safe to say Saúl homecoming hasn't disappoint. Ceballos and Asensio just as impressive though.
45'+2'   HALF-TIME! 
45'+2'   Asensio on the right and he chips it into Carvajal. His cross is headed just wide by Rodrigo.
45'+1'   Spain on the ball now as half-time approaches. 
45'   Rakitic launches it into the penalty area. Saved by De Gea. 
44'   Asensio races up the field, twists, turns, falls, gets up, spins around, falls again, loses the ball. And then he fouls Perisic. 
41'   Rakitic obstructs Nacho as he races for a through ball. Some afters and Nacho gets up grabbing his face. 
40'   Asensio used up all his magic. He drives that free about 100 miles over the bar.
39' Brozovic goes through the back of Ceballos. Really needless and deserves the card.
35' Ceballos whips one acros to Asensio and he absolutely launches it towards goal. It hitsa the crossbar and hits the keeper, it looks like, and then went in. Lovely strike. But that's an owngoal.
33' GOLAZO! Asensio absolutely buries one. That's 2-0. Spain are cruising. Poor ball across midfield and Asensio picks it up and slams it home from outside the box.
31'   Ceballos with a lovely turn to free himself in midfield. He plays it to Asensio and Spain moving forward now. Ball into Isco now from Rodrigo and Isco loses it. Lovely football from Spain. 
30'   Gaya hits the ground under a challenge from Kovacic. Looked like a certain foul?! Not given though. Gaya looks lively down the left.
28'   Croatia on the ball now. Modric operating at the base of midfield and he's running it now. Croatia looking for a way through. No dice yet but they're pushing forward more. 
27'   Modric is down injured after taking a challenge from Isco. 
23' Saul with a header. What a header. Lovely ball by Ramos, Carvajal with the cross.
22'   Croatia press high up the field and force Spain to concede the throw.
21' Rog for Vrsaljko now.
19'   We have a delay now as Vrsaljko is down injured. He's having something sprayed on his lef. The right-back has to go off injured.
18'   Rakitic catches Ceballos with a hand to the face as he tries to fend off the tacklers. Free for Spain. 
17'   Croatia incisive again. Ball into Perisic and he pokes it towards goal. De Gea off his line, Carvajal catches it with a leg and De Gea gathers the shot. Another nice chance for the World Cup finalists.
16'   Saul blown for a foul. 
15'   Gaya with a lovely cross into Rodrigo. He throws a leg at it but it's saved by Kalinic. Didn't look like Rodrigo got a touch to it either. Goalie made a bit of a meal out of it. 
15'   Spain looking decidedly dodgy at the back. De Gea grabs this one and restarts. 
13'   Chance for Croatia. Santini knocks it wide. Ball in ftom Vrsaljko and he just slices it wide. De Gea did well to close him down.
12' Santini booked for catching the defender. He actually used his hand there right in front of the ref. Lucky it's just a yellow.
12'   Vida gets ambitious as he launched over the top. Poor delivery. Nacho down holding his face.
11'   Carvajal down the right again but he's offside this time and he knows it himself so he stops. But the replay shows he might not have been! 
11'   Saul out to Isco. Nice ball across to Asensio and that's a throw as it's headed out by a Croatian noggin. 
10'   Rakitic launches one long and diagonally across the field. Cut out by Gaya. 
9'   Busquets clatters into Rakitic in the penalty area. Free for Croatia from the corner. Really incisive from Spain.
8'   What a ball! Busquets to Carvajal down the right. He sends it towards Rodrigo and Mitrovic puts it behind for a corner. 
7'   No way through for Spain. Saul clips one towards Gaya and it's cut out by Croatia but Spain recover. 
6'   De Gea gets it again. And he plays to Nacho. 
5'   Nacho back to De Gea and he plays it to Busquets. That's a dreadful pass back to Nacho and he gives it to Rakitic. Shot comes in and Rakitic bends it wide. Close. 
4'   Perisic down the left now and tries a stepover before shooting. It's blocked and Carvajal recovers. He's pushed over by Kovacic.
3'   Saul surges forward and lays it off. Isco tries to play Gaya through but that's too heavy a pass and it's out for a goalkick.
3'   Spain throwing it around now. Ball in behind and Rodrigo is close. Kalinic gathers but that was closer than Croatia probably would have liked. 
2'   Saul wins a throw for Spain. 
2'   Modric dropping deep and spraying it out wide. Croatia move forward and cough it up. 
1'   GAME ON!
    Modric and Ramos up for the toss. All smiles between the club teammates. That probably won't last very long.
    Spain's national anthem now. Maybe it's just the acoustics but it's really, really loud. That win over England plus Saúl homecoming the home fans all fired up.
    Croatia's national anthem plays. 
    This is going to be a tactically fascinating battle. Spain's midfield is technically excellent and just as creative, Croatia's is the same with Modric, Rakitic and Kovacic - where it is that he plays.
    Rakitic steps forward to recieve a plaque for his 100th cap with Croatia. Some nice photos and back in line, ready for action.
    The teams take to the pitch. Thousands of Spain flags in the crowd.
    Rakitic and Luis Enrique who enjoyed plenty of success at Barcleona are reunited tonight.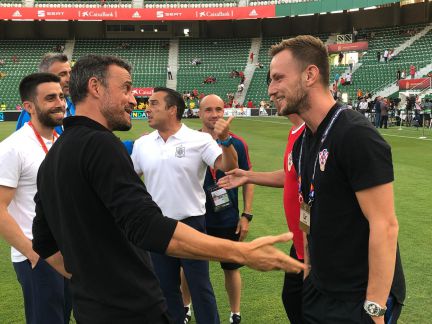 Saúl returns home. His dad says it will be a very proud moment when he sees his son on the field in a Spain shirt. Also, there has been a lot of Elche fans looking to buy tickets to see the return of their prodigal son.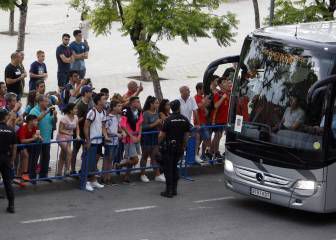 Luis Enrique is the first Spanish manager in 16 years to put six Real Madrid players in his starting XI. 
    Croatia XI: Kalinic, Vrsaljko, Mitrovic, Vida, Pivaric, Rakitic, Brozovic, Kovacic, Modric, Perisic, Santini.
    Iago Aspas, Marcos Alonso and Thiago drop out for Asensio, Gaya and Ceballos.
    The half and half scarves are flying off the racks in Elche!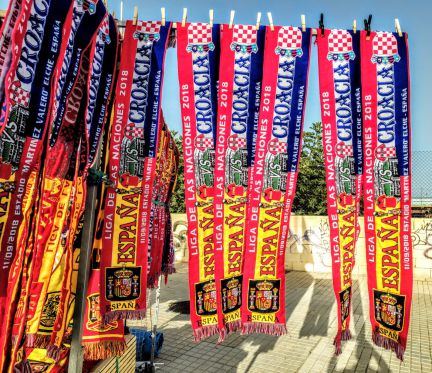 Dani Ceballos and Jose Luis Gaya start and they make their debut. The second and third debutants under Luis Enrique after Marcos Alonso made his at Wembley.
    Spain XI vs Croatia: De Gea, Carvajal, Nacho, Ramos, Gaya, Ceballos, Busquets, Saúl, Asensio, Rodrigo, Isco.
    Hello and welcome to our coverage of Spain vs Croatia in the Nations League live online from Estadio Martinez Valero with action kicking off at 20:45 CEST on 11 September 2018.
Spain - Croatia live online: preview
The World Cup finalists travel to Elche in Alicante where they play Spain at the Estadio Martinez Valero with kick-off in the Nations League game at 20:45 CEST. Spain are coming of an impressive comeback win over England in Wembley while Croatia played out a 1-1 draw with Portugal with Ivan Perisic giving them an early lead before being pegged back.
Spain's Saúl has been stealing the headlines as he returns to his hometown after his first goal for his country against England. He didn't play a single minute at the World Cup but with the arrival of Luis Enrique, it looks like he will be a focal point in Spain's midfield going forward. There was even a surge of people looking for last minute tickets after his performance on Saturday night. Another player who improved after a World Cup to forget was David de Gea and Luis Enrique praised his keeper after a string of excellent saves that kept England and Marcus Rashford in particular at bay. Luis Enrique also admitted his error by leaving Iago Aspas out of his initial squad. The Celta striker was very good against England and could retain his spot for the arrival of Croatia. Iñigo Martínez did not train and is out with discomfort. Other than that, there are no fresh injury concerns.
Croatia are without Dejan Lovren and Domagoj Vida and that could mean trouble for them at the back.Vida started against the Portuguese but had to be withdrawn and in Lovren's stead was Matej Mitrovic. Andre Kramaric is out also and so is Ante Rebic. Mario Mandzukic has retired after the World Cup and his brash presence in attack could be missed. Luka Modric is available however, and should start. He is currently aiming for the Ballon d'Or and every game with as many eyeballs watching is another chance to further his cause. Ivan Rakitic, his Croatian teammate, thinks Messi is the best ever but that Modric deserves the world's best player award this season. "It's a great challenge to play against Luka in the Spanish league and it's even better to play with him for our country," Rakitic said. "Hopefully we will get to enjoy him a little bit more."