Al Ain stun River on penalties to reach Club World Cup final
Al Ain booked their Club World Cup final place at River Plate's expense after a 2-2 draw was followed by a 5-4 shoot-out win for the tournament hosts.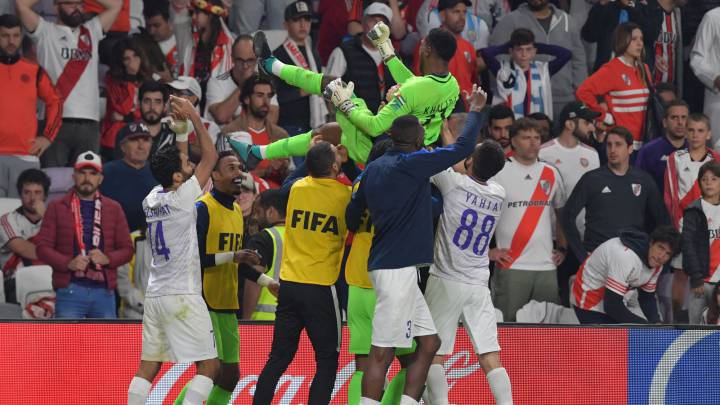 Follow the second Club World Cup semi-final live: Kashima Antlers v Real Madrid

River Plate 2-2 Al Ain (4-5 on penalties): match report
Al Ain downed River Plate to make it to the FIFA Club World Cup final on Tuesday afternoon and will play the winners of Real Madrid and Kashima Antlers in the final on Sunday.
They took the lead after just three minutes when Marcus Berg glanced home a Barman header. That lead was short-lived though because Santos Borre, who missed the Copa Libertadores final second leg, scored twice shortly after.
He was lucky with the first as he poked home a shot from outside the box, getting in the way of it more than anything else.
His second goal was a lovely finish though as he broke free on the right and slotted home to turn the game on it's head.
Caio, Al Ain's most dangerous attacker drove a shot home after cutting inside on his right and the game went to extra-time.
They would not be seperated, however, even after extra-time with the game swinging wildly between River Plate's dominance and Al Ain's chances.
The penalty shoot-out started and both sides were even in with a 100% success rate until the very last one of the first ten.
Enzo Perez drove the shot to Eisa's left but the keeper was there waiting for it and Al Ain were through. They rode their luck a times and whoever they play in the final will be coming up against a team who has played three full games with two stints of extra-time in the last week. But it's 90 minutes and the home side are riding a wave of confidence.
River Plate vs Al Ain live online: match updates and commentary
    Al Ain through to the final! They play the winners of Real Madrid and Kashima Antlers in the final. 5-4. 100% record until Enzo Perez stepped up.
    Enzo Perez now. He misses. Worst penalty he could have taken. 
    Rayan Yaslam Mohamad Aboudan Al Jaberi comes on and he sees Armani get a hand to it again. He can't keep it out though.
    Sudden death now. 
    Borre to take. 4-4. That is a really good penalty. His 3rd goal today. 
    Amer Abdulrahman the latest. Armani guesses the right way but he can't get a hand to it. 
    He sent Eisa the wrong way again. 
    Pratto drills that one home. 100% for both sides. 3-3. 
    Bandar Mohammed next up and he scores. Armani gets a hand to it but he can't stop it from crossing the line.
    Quintero takes. He scores. More power than precision but the keeper went too early and misses it. Nearly does catch it with his foot but nope, that's 2-2. 
    Shiotani next up. He walks up as calm as you like, places the ball gently on the spot and.....he passes it into the net. What a penalty. 2-1.
    1-1. Al Ain to take the next one.
    River Plate next and it's Scocco. That's a really lovely penalty. Into the bottom corner.
    A hug for his keeper and he's back down to his teammates. He scored the goal to tie this game up. 
    He does take! He slots that home sending Armani the wrong way.
    Caio the first one to take. 
    It's Al Ain set to take the first penalty. 
    Eisa has been really good today. His confidence is very high and I wouldn't rule out a hero's shoot-out from the Al Ain keeper.
  Armani looks like a man ready for action. Eisa gets a talking to by his coach. He obviously has some wisdom to give him.
120'   PENALTIES! Whistle goes on extra-time. 
120'   Ball down the left in search of El Shahat but he can't keep it in. Goal kick. One last chance for River Plate to attack and that should do it.
120'   Into the last minute of extra time. Destined for penalties at this stage.
119'   Ball down to Eisa and he takes it into himself and picks it up. 
117'   Al Ain survive a scare and take it up the field. This isn't going to be won by anyone in extra-time. 
117'   Excellent save. Armani with the save as Ahmed sends it towards goal from the free. 
117'   Foul on Casco now as Al Ain have a chance to send on into the box now. 
115'   Santos Borre is ruled offside. We have five minutes left now and these sides can not be seperated it seems. Penalties anyone? 
114'   Foul on Polito. Free for River Plate and a chance to send it into the box. It's a rushed effort and Al Ain clear. 
112'   That is quite a reckless challenge.
112' Foul by De La Cruz in the middle and he gets himself booked for that too. 
111'   Slide comes in from Quintero and Al Ain have a throw. 
109'   Montiel's pass cut out and Al Ain clear. They start an attack too but the pass by El Shahat is into Armani's hands. 
108'   Just wide and he knows how close that was. Although it looked like it caught his back or shoulder. Not the clearest of contacts but almost went in.
108'   Corner now for River Plate. Sent into the box and Polito gets a head to it. 
105'   We are back underway.
105'   Half-time.
105'   River on the attack. Crossed again and Eisa gathers that one too. 
105'   Into the last minute of this half now. 
104'   Casco cross and Eisa saves that one. Not a bad ball. The left-back has been a constant threat down that side for the full 105 minutes so far.
103'   Ball by Quintero to Pratto is just excellent but he can't do anything with it. River improving now as they get their third wind.
102'   Foul on El Shahat. 
101'   Casco plays to Borre, who is really deep. He plays the ball forward and it's cut out. River Plate win it again but Al Ain are defending quite well. They attack again and there's a free.
100'   Caio with a through ball. It can't find its target as it dribbled through to Armani.
99'   Quintero with another strike. Well wide again.
98'   Cross comes in and Maidana heads just over. He was at the front post and it looked an awkward one to score. He just kind of sent it towards goal but never really any chance of going in.
97'   Here's a corner incoming for River Plate.
96'   Al Ain getting increasingly sloppy but River have no real answer here as to how to finish them off. Some pop shots but it's all very scattered at the moment.
93'   Two quick strikes from River. First one saved by the keeper and the second is driven wide. 
92'   Sent out to the back post and Maidana with a cross. Straight into the hands of Eisa.
91'   River attack. Out by Ahmed for a corner.
91'   We are back underway for extra-time! 
91'+5' FULL TIME! We are going to extra-time in Al Ain.
91'+4'   River Plate with a little too much hurry and no speed. They lose it on the counter. 
91'+4'   Pinola clears for a throw and Al Ain are back on the attack. Destined for extra-time now surely. 
91'+1'   Ball over the top again. They're forcing it up to him. It's over his head now too though.
90'   They try to pull a fast one and the shot from Shiotani is well wide of the mark. 
89'   Casco with the foul and Al Ain have a chance from a free from the right. Just outside the penalty area.
89'   Al Ain pushing forward now. This could go either way as cliched and all as that is. They are playing better now when it looked like River were definitely going to score! 
88'   This game looks destined for extra-time.
84'   That corner is cleared but Al Ain are back on the ball. Stray pass and River back in possession.
82'   Free for Al Ain and it's headed out by River. Not convincingly though and Al Ain back in to win a corner. 
80'   Al Ain down to 10 men and Quintero shoots from way out. Way wide too.
80'  Barman carried off. 
80'   Al Ain need to make a change. The keeper out and signals that the player on the ground has indeed torn something. 
80'   Casco chopped down by Ahmad. 
79'   Chance for Al Ain blocked twice and then sent wide in the end by Doumbia. River Plate running out of options. 
78'   They lose it and Al Ain attack. 
77'   Borre out to Pratto. River Plate patiently throw it around now but they are trying to push for a winner.
77'   Another ball down the field and it's over his head and into Eisa's possession. 
76'   Caio with another chance. Blocked out to Shiotani. Blocked again and River win the throw.
75' Berg coming off now for Al Ahbabi.
74'   Ball down the channel to Berg. Maidana puts it out for a throw.
73'   Santos Borre springs the offside trap again and he sends it inside. Makes it to Pratto and he shoots. Saved for a corner from a tight angle.
71'   That's another ball inside to Borre but Eisa foils him yet again.
70'   Good effort by Shiotani and Al Jaberi fires it over. 
69' Martinez absolutely rattles the crossbar. Decent hit but it rattled the crossbar. Nearly broke the frame of the goal.
68'   Penalty! That was only a matter of time. River Plate were driving forward. Casco was tripped up as he went into the box. Fairly clear penalty really. 
67'   Another good ball inside and Borre chases it down. Cleared for a throw.
66'   Referee getting a quick readjustment of his VAR pack. He seems to have a malfunctioned. 
65'   Ball clipped inside by Pinola and it's seen out for a goal kick. 
63'   What was that? Quintero drives the ball over from the free from miles out. 
63'   Shot comes in and Eisa saves it. Punches it away and Abdulrahman fouls Maidana. 
62'   He is okay to continue.
61'   Eisa is calling for help now. He's down holding his ankle. He's be a big loss if he has to go off.
61' Caio with a foul on Perez. He gets himself a booking now.
61'   What a save! Eisa with a strong hand as it's headed his way. That really is a wonderful save from the keeper.
60'   Santos Borre sent through on goal and he sees his shot saved. Tight angle and that's a good save.
59'   Casco with a nice stepover and a dreadful pass out wide to the left. 
58'   Ball sent across the box by Pratto and Eisa jumps out and grabs it. 
57'   Corner for River Plate as Pratto drives into the penalty area and has it nicked off his toe.
56' Quintero on now for Fernandez too.
56'   Free for Al Ain and Caio sends it in. Headed to Armani and he grabs it.
56' Perez comes on now for Palacios.
55'   Abdulrahman fouled by Casco as the defender goes through the back of him.
54'   River Plate pick it up again as they had dropped off. 
52'   Cross comes in from River Plate. Looked like a deflection and the referee says it's a goal kick.
51' GOAL! GOAL! GOAL! Al Ain are level through Caio. They have been improving and Caio gets it on the left, cut inside and drives home. Armani went the wrong way. That is a lovely finish.
49' El Shahat with a slide and a yellow. He races down the right and River's Casco gets back to win it back. Late challenge.
47'   That's a good chance for Al Ain. Ball in from the left and it's in between Al Ain players and River Plate survive.
46'   We ar eback underway! 
45'+2'   HALF-TIME! 
45'+2'   Yeah, he was offside. Referee says El Shahat was off and the replay shows he was indeed in an offside position.
45'+2'   Referee tells the complaining River Plate players to calm down. It's going to VAR.
45'+1' GOAL! GOAL! GOAL! El Shaht slots home. He looked offside and we will have VAR but as it stands, it's a goal.
45'+1'   Two minutes of added time as Al Ain move forward. One last chance.
44'   Another ball in behind by Martinez and Borre closes in! Eisa out and clears. 
43'   River attack down the right hand side again. They're looking so fangerous every single time here. Blocked for a corner this time.
42'   Long ball down the field in search of Abdulrahman and Pinola heads back to Armani. 
40'   And it is, he's back up, recovered and we are back in action.
40'   Through ball from Ponzio and it's cut out by the defender. Montiel caught in the chest by the defender as it's kicked away. Might be worse than he is making it out.
39'   Would have been harsh as the defender had eyes only for the ball. That's why referee didn't even bother with VAR in the end.
37'   Lovely cross by Casco and it's taken down before being sent back out to the left. Delivered in and Santos Borre hits the ground with the ball in the air. Looks like it should have been a penalty? But ref says no and no VAR either. 
35'   Foul by Barman in the middle. River Plate back on the ball and they haven't had it all their own way since going ahead. They have been the better side though. And Al Ain will probably be the more worn out as the game continues...
32'   Borre wins a throw. Lovely ball over the top looking for Martinez and he loses out. If he had an extra second there to shoot, he was in a good position.
31'   More VAR. Referee halts play after some confusion. It's a corner for Al Ain though. Yet again, another delivery from Barman as he puts it on the head of his teammate Berg. Punched away by the keeper too, which might be a corner. Ref says no.
30'   Much better from Al Ain. Although it's still a shot from distance. Armani grabs it.
28'   The issue wasn't with Palacios fouling, which it looked like he didn't. He ducked out of the way and the ball hit his hand too, which he might have been guilty of.
27'   Palacios was the River player, who is being accused of a foul. The referee doesn't take very long looking at VAR. He says it was NO PENALTY! 
26'   Oh wait, maybe not! The referee is going to VAR.
25'   Two Al Ain players ran into each other, it looks like from the replay.
25'   Another dangerous delivery from BArman and it's not cleared properly. Players falling in the box with Al Ain looking for a penalty. It is finally sent back in and Armani grabs it. 
25'   Corner for Al Ain. 
22'   Ball over the top to Martinez and he makes a dart inside. Doumbia stops him and it's out for a throw to Al Ain.
21'   Borre with another nice one-two with Ponzio this time. The return pass is too heavy though and the keeper, Eisa, gathers it.
18'   Another run down the left and it's crossed into Santos Borre. Out for a throw. River really dominating this one after that shaky start.
16' 2-1. River Plate take the lead. Santos Borre with the finish after a lovely through ball from Martinez. 
13'   Not bad. Caio with an effort from outside the area. A snap shot on the half-volley but it's well over. He apologises to teammate, which suggests they know it was the wrong choice.
13'   We needed a couple of early chances but we got two very early goals. Great start to this but River Plate are right back in this now and it will be a tough task for Al Ain to get ahead again. River dominating the ball now.
11' Ball sent back in and shot catches Santos Borre. GOAL! 1-1. 
10'   Free for Al Ain. They work it short across the field and strike comes in but that's blocked and River attack. Pratto makes it to the ball and beats the offside trap. Crosses and it's headed out. 
9'   River getting into more dangerous positions now. Again, Martinez with a strike. That hits the side netting too. Much better effort but same result.
8'   Cross comes in from Martinez but it hits the side netting. That might have actually been a shot. Poor decision.
7'   Maidana recieves the ball from a teammate and slips, which draws cheers from the home crowd. River Plate keep it and move it forward but they haven't put it in the mixer yet and have not looked dangerous at all.
6'   Al Ain clear through Ahmed with Borre bearing down on him. River Plate win a throw. They're back on the attack. 
5'   Berg with a foul and River Plate are on the ball. 
5'   Al Ain with a dream start. They've played a lot of football in the last week and will be likely defending for the next 85 minutes.
4' GOAL! Al Ain take the lead! Barman with the delivery and Berg might have gotten a touch on it. 1-0. 
3'   Caio ready to take the free. He does and it's Santos Borre with the header out. Corner for Al Ain.
1'   Played back to Essa and he launches it forward. Caio is fouled by Maidana. 
1'   We are underway in Al Ain City.
    And now they are led out by referee, Rocchi, and his assistants.
    The two teams are in the tunnel. River Plate in their purple kit and Al Ain in their white, home shirts.
    The Club World Cup will be worth just €5 million to the eventual winners. FIFA's plan to revamp the competition is being spurred by low attendances at the tournament, with just 3,000 watching Kashima-Chivas. It is also a problematic competition for European and South American sides, with those teams participating either forced to interrupt their domestic season or, in the case of Brazilan teams, to play after their domestic campaign has wound up.

    If you want to relive the Copa Libertadores final, you can read the report and how it happened right here.

They have travelled plenty in the last two weeks! The River Plate fans in place ahead of the semi-final. 
    Aside from that, it's the same XI that played at the Bernabeu. 
    Enzo Perez is the man who loses out in favour of Santos Borre. 
    Quintero is on the bench but Rafael Santos Borre returns to the side in attack alongside Pratto. He missed the Copa Libertadores final due to suspension. 
    River Plate XI: Armani; Montiel, Maidana, Pinola, Casco; Fernández, Ponzio, Palacios; Gonzalo Martínez; Pratto, Santos Borré
    Marcus Berg returns to the starting XI. He has scored 11 goals in 12 games this season and started in every game for Sweden in the World Cup last summer. He is a tall, pure number nine but he might suit River Plate's defenders down to the ground.
    Al Ain XI: Eissa; Hames, Ahmed, Caio, Marcus Berg, Barman, Fayez, Abdulrahman, Ahmed, Shiotani, ElShahat.
    A grand 22 degrees in Al Ain City for the game tonight.
    Gianluca Rocchi will ref today's game. 
    Rafael Santos Borre moved to Atlético in 2016 and said "if I have to seat blood to stay at Atlético, I will." It didn't quite work out for him and he left soon after but he has been linked with a move back to Madrid. He could be set for a return to the team today! 

River Plate are coming off, arguably, their biggest game ever! What will their recovery and preperation have been like after that? We wil find out tonight. 
    Hello and welcome to our live online coverage of the FIFA Club World Cup as River Plate play Al Ain with kick-off from 17:30 CET.
River Plate vs Al Ain: preview
Hazza Bin Zayed Stadium is the venue for the first semi-final of the club World Cup with River Plate playing the hosts Al Ain on Tuesday 18 December 2018. It is River Plate's first game since the historic and dramatic win over Boca Juniors at the Santiago Bernabéu last Sunday night and they are playing a slightly jaded Al Ain side, who have been in action twice this week already.
"We're arriving on the back of a great performance in the Copa Libertadores and now we have the chance to face the champions of the other continents. We want to do well and we're prepared for the competition," says Juan Quintero ahead of the tie. He scored the goal in the Copa Libertadores final that would turn the game in their favour and send them on their way to the UAE. And here they are.
Rafael Santos Borre could return having missed that game in Madrid due to suspension and Jonathan Maidana and Leonardo Ponzio could be rested. Quintero did not start the final against Boca but his intervention was key and he might be rewarded for that performance in Al Ain on Tuesday.
The UAE champions played more than 210 minutes in the last week after beating Team Wellington in the Club World Cup play-off, which went to extra-time. They also beat El Tunis in a less dramatic 3-0 victory in the quarter-final with goals from Mohamed Ahmed, Hussein El Shahat and Bandar Al-Ahbabi. Mohammed Abdulrahman is available after suspension and Marcus Berg, their striker, returns having missed those two games with a virus that hit the squad. Caio, Al Ain's Brazilian midfielder, is "a very important and interesting player for his team" according to River boss Jesus Gallardo and controlling him will see the Argentines go a long way in controlling the game.
Real Madrid and Kashima Antlers play in the other semi-final on Wednesday but all eyes will be on Al Ain on Tuesday to see who the first team in the FIFA Club World Cup Final in Abu Dhabi are.