Bayern Munich: "Coutinho's an amazing player; we really didn't want him to go" - Klopp
Jürgen Klopp says Philippe Coutinho's switch to Bayern is good news for the German champions and the Bundesliga, but not for his old club Dortmund.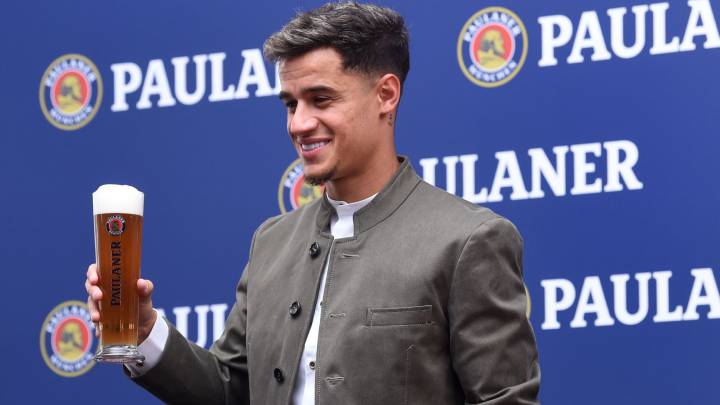 Philippe Coutinho struggled to find his feet at Barcelona but Jürgen Klopp is sure that HE will thrive in the Bundesliga where he is on loan with Bayern Munich. Klopp admitted feeling a bit sad when Coutinho decided to leave his Liverpool side to move to Barcelona in January 2018. But things really haven't worked out for the Brazil international at Camp Nou where he found himself competing with Ousmane Dembélé for a secondary role out on the left wing - not his favoured position. The arrival of Antoine Griezmann further limited his chances of locking down a regular place in the team. Last month, Coutinho accepted a one-year loan deal with Bayern and Klopp thinks that's a smart move for both player and club, although maybe not so much for his old team and title challengers, Borussia Dortmund.
Bayern and Coutinho are a perfect fit
Speaking at the Bild Sports awards, Klopp was full of praise for Coutinho and hinted he would have taken him back in a shot if it was for financial restraints making an Anfield return impossible. "[He's an] amazing player, we really didn't want to let him go. Barça forced us financially," Klopp explained via a video link to last night's gala in Hamburg. "[Philippe] is a world class player, really good transfer for Bayern and the Bundesliga. I thought it was a good fit for both when I first heard about it. It may sound strange but we didn't have enough money to get him. We'd already spent all the money we got for selling him. I have already told him in person that he and Bayern will be a good fit".
The only downside of Coutinho's move to Bayern in Klopp's eyes, is that it will strengthen the defending German champions and that means his old club will face a stiffer challenge this season. "Obviously it's not so good for Dortmund; I hope Dortmund will win the title again because it's getting boring with Bayern winning every year. But Dortmund have an amazing team. Other teams like Leverkusen and Gladbach/ Leipzig are also interesting teams and a lot can happen."
Coutinho getting playing time at Bayern
At Bayern, Coutinho is getting the playing time he was deprived of at Camp Nou; he has made two appearances so far - he signed too late to take part in the league opener against Hertha Berlin but featured in the victories over Schalke 04 and Mainz 05 although he has yet to open his account for his new employers.