Zidane's Mallorca - Real Madrid press conference: Clásico, Kubo...
Ahead of Real Madrid's clash with Mallorca on Saturday, Zinedine Zidane discussed the Clásico postponement, Paul Pogba, Take Kubo and more.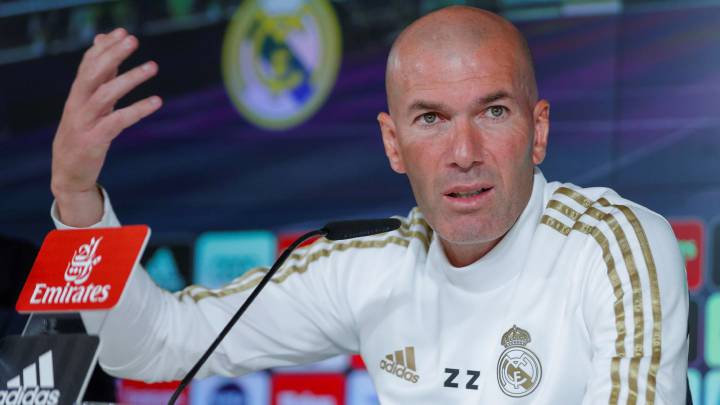 Barcelona coach Ernesto Valverde said he wanted to play the postponed Clásico at the Camp Nou on its original date, 26 October. What would you have liked to do?
I know this is an issue that's of great interest to you [the media], but at the end of the day we're just going to do what we're told. If we have to play on the 26th, we'll play on the 26th. What's most important is that we're ready for the game when it's played, and that we make our fans proud when we go out there.
In footballing terms, does it have an impact? Do you have a preference for any particular date?
I do, but I'm not going to say. That's private. We know that it could be 7 December, 18 December... We'll adapt [to what is decided].
Is postponing the Clásico the solution?
At the end of the day, we'll adapt. It won't change anything.
---
Read also: El Clásico decision good news for Zidane
---
Would you give Sergio Ramos permission to go to the Olympics?
I haven't spoken to him about that. What's most important is how Sergio feels. If he wants to play, I have no problem with that, because at 34 years of age he wants to do something important to help his country. I think that's something positive.
Are you in favour of making January signings?
The club will have until the end of January to make signings, but what's most important to me is tomorrow's game. I can't start thinking about this signing or that signing. That's not what's most important.
Was your meeting with Paul Pogba in Dubai a chance thing, or pre-arranged?
It was complete chance. I was there and he was too. And, since we know one another, we spoke to each other. I'm not going to tell you what we talked about; that's private. We've known each other for a long time. We bumped into each other, and we stopped and talked.
---
Read also: Zidane and Pogba meet in Dubai
---
Absentees for the trip to Mallorca:
There are a number. Luka Modric isn't fit, Gareth Bale won't be available either, and Toni Kroos will be absent. Lucas Vázquez is out too. There are always going to be absentees, that's the tough part about being a coach. But other players come in, and we'll look to perform well tomorrow.
Are you following Takefusa Kubo's progress on loan at Mallorca?
What's good from his point of view is that he's playing. He's doing well, it was his decision and I'm pleased for him. I'm happy with how he's doing at Mallorca.