Adriano responds to death rumours: "I'm definitely alive, I'm at home"
The former Inter Milan striker took to social media to reply to rumours that he'd passed away. At least he could see the funny side...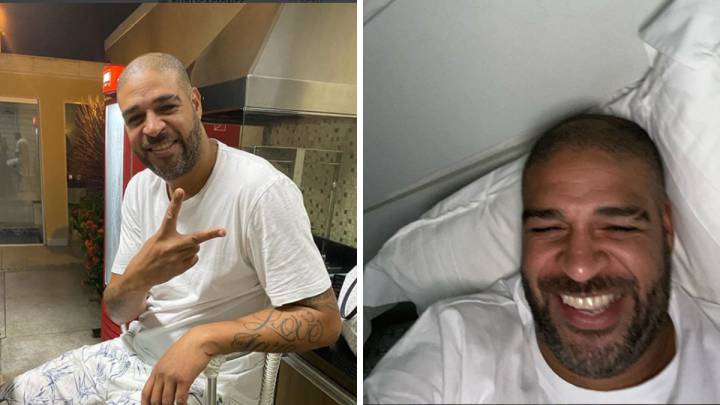 Adriano Leite, El Imperador, was one of the best players in the world when he broke on to the scene at the start of the 2000s. An international with Brazil, Adriano was a powerhouse of a player, who lit up Serie A for a decade with his goals for Inter Milan, Fiorentina, Parma and Roma.
Since hanging up his boots, Adriano returned to Brazil so that he could be close to his childhood friends and has been spotted living in Morro do Alemão - one of the most violent and dangerous favela towns in Rio de Janeiro. It was in Alemão that the rumours that Adriano Imperador had died first surfaced.
Ver esta publicación en Instagram
But the player was quick to confirm that he is very much alive and well by posting a couple of self portraits up on his personal Instagram account. "Yes, yes, I'm alive" he captioned the first photo of himself looking relaxed getting out of bed with a huge grin. "I'm alive, folks. I'm at home", he added to another photo, with a V for victory sign taken in his home.
Ver esta publicación en Instagram
A short but intense career
Adriano started out at Flamengo and within 12 months he had signed for Inter Milan on a 13 million euro deal. It was at Inter, under coach Héctor Cúper that a teenage Adriano scored a sublime, late minute free-kick to beat Real Madrid 1-2 and win the Trofeo Bernabéu in 2001 - only the second time the club has won the summer tournament. He won back-to-back Serie A titles with Inter in 2006, 2007 and 2008 as well as the Coppa Italia in 2005 and 2006.

He also enjoyed spells at Parma and Fiorentina before returing home to play for São Paulo and Flamengo. His last stint in Europe before returning home was with Roma in 2010. In 2011, he was off to join Corinthians, and ended up at Atlético Paranaense in 2014. His playing days came to an end in 2016 in Florida with Miami United. With the Brazil national side, Adriano made a total of 48 appearances, including friendlies, and scored 27 goals