Real Madrid's Luka Jovic trapped in Serbia
After the news that Los Blancos' striker had ignored advice on coronavirus quarantine, on Friday his country closed the borders for travel.
Luka Jovic appears to be trapped in Serbia and has no option of returning to Spain for the foreseeable future, after disappearing to his home country.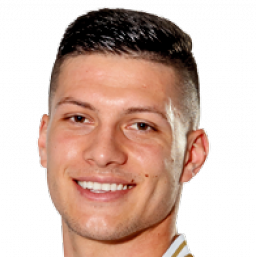 Jovic stuck in Serbia indefintely
On Friday morning the local government led by Aleksandar Vucic decreed that the borders would be closed. As per many other European countries, only nationals are permitted to return to the country. The measure, according to Air Serbia sources consulted by AS, has been taken without any date for a return to normality. The period that the Real Madrid striker will have to remain in his country is, therefore, unknown.
This situation, however, was already going to be a problem for the player, even before his secret trip to Belgrade was uncovered, albeit with alleged permission from Real Madrid. On Wednesday the European Union also closed its borders. As Serbia does not belong to the community area, it is seen as a 'third country' meaning their citizens are unable to enter EU territory.
Only exceptional flights allowed
Serbia's closure is absolute. There is no access by land, nor by air. Commercial flights have been cancelled and only airplanes with goods, as well as officials and medical personnel are allowed to move. The last regular flight landed this morning at Belgrade's Nikola Tesla airport at 05:20 arriving from New York.
Shortly thereafter, an A330 left for Shanghai to acquire necessary medical supplies. A plane will also depart for Amsterdam, which, after going via Paris, will repatriate Serbian citizens trapped at these airports. These two flights, both from Air Serbia, are the only ones that have permission to fly today. Even private jets, like the one Jovic used for his trip, are not allowed to leave or enter the country.