USA Election 2020: who is Lara Trump?
Suddenly in the spotlight for defending the president, who is the woman who on Sunday came to Donald's rescue over Gretchen Whitmer scandal?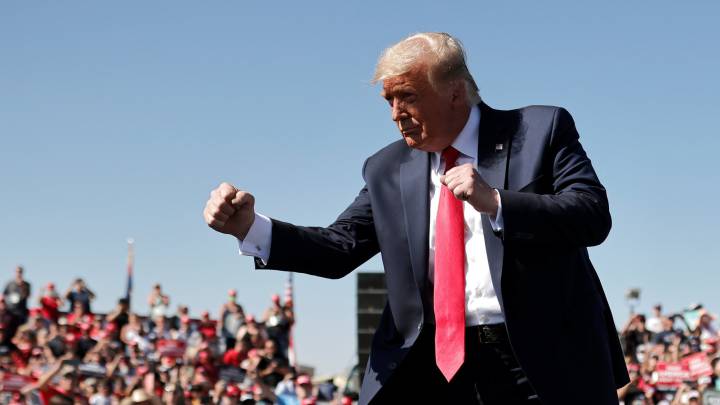 Donald Trump's daughter-in-law was his unexpected knight in shining armour on Sunday. The president had attracted criticism over "lock her up" chants at rally Saturday over the Michigan Governor Gretchen Whitmer.
Whitmer case: domestic terrorism, a kidnapping and the Wolverine Watchmen
The Democratic governor Whitmer, who has now become a high-profile on the ground campaigner for Biden, was the focus of a kidnapping plot, now being dubbed domestic terrorism. To date, 14 people have been charged in connection with the plot, which was ultimately foiled by an FBI operation targeting the responsible extremist group "Wolverine Watchmen".
What did Trump say at Michigan rally?
Governor Whitmer has hit back at comments made at the Muskegon, Michigan rally this weekend saying that Trump's rhetoric was "incredibly disturbing", referencing the president allegedly making light of the plot to kidnap her; "They said she was threatened," Trump told the crowd. "And she blamed me. Hopefully, you'll be sending her packing pretty soon."
The crowd responded with chants of "lock her up", a phrase used against Hillary Clinton during the 2016 campaign. As the chants continued, President Trump responded, "Lock 'em all up."
Whitmer wrote on Twitter on Saturday: "This is exactly the rhetoric that has put me, my family, and other government officials' lives in danger while we try to save the lives of our fellow Americans. It needs to stop."
This is exactly the rhetoric that has put me, my family, and other government officials' lives in danger while we try to save the lives of our fellow Americans. It needs to stop. https://t.co/EWkNQx3Ppx

— Governor Gretchen Whitmer (@GovWhitmer) October 17, 2020
The rally was a peak in a months-long conflict between the president and the governor, as Trump has lashed out against Whitmer's coronavirus restrictions.
Al Jazeera reported that Trump campaign senior adviser Jason Miller told Fox News that Trump had no regrets about what he said during Saturday's rally.
"I think the fact of the matter is that many residents of Michigan are pretty frustrated with the governor. They want to see the state open back up."
What did Lara Trump say about the debacle?
Trump's daughter-in-law Lara Trump responded on CNN's "State of the Union" on Sunday morning, playing down the incident and claiming the president was "having fun", that any claim he was inciting threats was "ridiculous."
"He wasn't doing anything I don't think to provoke people to threaten this woman at all. He was having fun at a Trump rally and quite frankly, there are bigger issues than this right now for everyday American people," she said before redirecting, saying that coronavirus restrictions need to be lifted because "people want to get the country open".
At the rally Trump, recently recovered from covid-19 himself didn't wear a mask and nor did many of the crowd. There have been surges in coronavirus cases in every state apart from Vermont and Missouri this week.
Who is Lara Trump?
38-year-old Lara Trump is not only campaign adviser to Donald, but is also his daughter in law. She's married to Eric Trump (also a businessman and television personality). They have two children together. A television producer by trade, she now hosts and produces Trump Productions' "Real News Update" which is a weekly webcast supporting Trump's 2020 campaign for re-election.
Election day looming, polls show Trump lagging behind Biden
Trump's popularity across the country is waning according to latest polls, as he bids for re-election against Joe Biden on 3 November. In 2016 Trump won Michigan by a narrow margin and this year, the polls are showing Biden comfortably ahead.
For the latest on coronavirus in the US as it happens, follow our dedicated rolling feed.