US election 2020 results: which states are still counting votes?
Biden won the election based on the votes that have been counted thus far, but states are still counting votes. The result is sure to stick.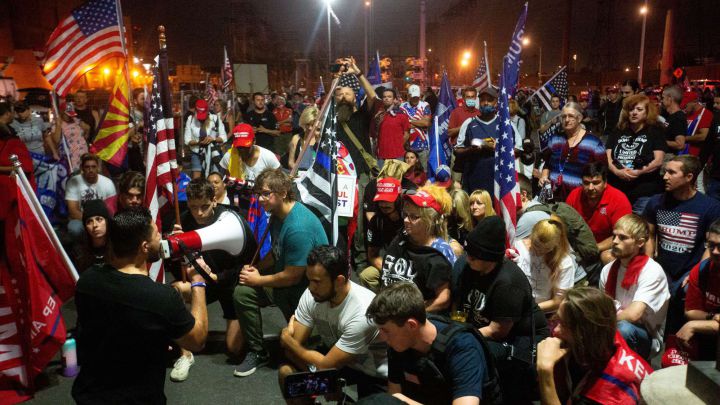 Even now over a week since polls closed, all 50 states plus the District of Columbia are still counting votes. The vast majority of them have now counted 98 or 99% of all votes cast, but some have a little way to go yet. It's unlikely that the results of any of the remaining counts will change the presidential election result; Joe Biden has won the popular vote by over 5 million votes and counting and more importantly the electoral college by well over the required 270 seats.
All states are due to give certified vote count figures by the end of November, though individual deadlines vary from state to state.
Where do the states stand on vote counting?
States that lag behind in vote counting include Alaska, which has counted 78% of votes so far, and where Trump is leading by 16pp, so has already been called as the winner of its 3 electoral college votes by all major networks.
Also counting slowly are New York, where Biden leads by 13pp and have so far processed and counted 84% of votes cast. The District of Columbia also lags behind, having counted 88% of votes. D.C. is where Biden holds his biggest percentage point lead, a whopping 87%. Trump's equivalent state is Wyoming where he holds a 43pp lead over Joe Biden.
Which states have not called a winner yet?
Most news agencies are still to call Arizona, Georgia and North Carolina. All three have completed 98% of their vote count, but it's still too close to call.
Arizona
Votes already reported: 3.3 million
Votes left to be counted: 25,000 or 2%
Candidate currently in lead: Joe Biden, by 11,536 votes
Associated Press and Fox News led the charge calling Arizona for Joe Biden in the small hours of Wednesday morning last week, but other networks did not follow and have still not called the state for either candidate. The vast majority of the ballots still being counted are from Maricopa County, the most populous area of the state.
"The Associated Press continues to watch and analyse vote count results from Arizona as they come in. We will follow the facts in all cases." said Sally Buzbee, AP's executive editor.
The New York Times, who to date have still not called the state for Joe Biden, said President Trump has closed to within around 12,000 votes in Arizona, but there is no longer a realistic path for him to erase the rest of the gap.
Georgia
Votes already reported: 4.9 million
Votes left to be counted: 2%
Candidate currently in lead: Joe Biden, by 14,057 votes
Because of the small margin between the candidates, the secretary of state authorized a hand recount of the presidential election in the state.
Network decision desks generally don't make a projection if there's a recount, but the margin that Biden currently leads by is extremely unlikely to change due to the measure.
North Carolina
Votes already reported: 5.4 million
Votes left to be counted: 2%
Candidate currently in lead: Donald Trump, by 73,244 votes
Today all major agencies called Thom Tillis as the winner of the Senate race in North Carolina, but the call on the presidential race is still to be confirmed.
At the time of writing, 70 counties are still to report some vote counts. Mail ballots in North Carolina are accepted until 12 November, as long as they are postmarked by Election Day. The AP has confirmed it will reassess the race once the deadline to return absentee ballots has passed.