Water in Texas: when is it coming back and what's the official recommendations?
A new boil water notice advises Texans to be careful with water usage at a time when pipes have cracked and treatment plants have been hit by the freezing temperatures.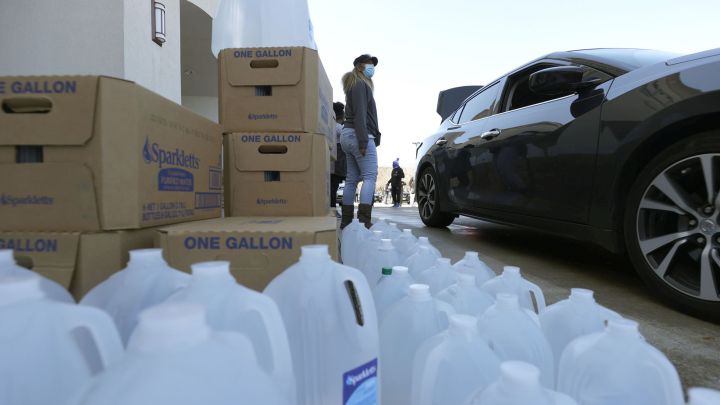 The fallout of the extraordinary weather conditions in America over the past week has caused chaos across the country, with the state of Texas feeling the brunt of the damage. Initially it was electrical shortages which threatened millions of lives, but recent developments suggest that a water crisis is now the most real danger.
As of Friday morning the number of people in Texas who were without running, drinkable was greater that the number who were without power. At a peak there were some four million Texans without electricity but as the grid returns to normality the taps are still running dry in many homes.
To date at least 44 deaths across the country have been attributed to the horrendous spell of weather and associated infrastructure failures. Of that number, 27 were Texans.
As we become "old news", I just want to remind folks that just because Texas has power back doesn't mean the humanitarian crisis is over.

7 million Texans are under a boil water notice. Goodness knows how many just don't have any water at all. There's no more snow to boil. 1/x

— Erin Zwiener (@ErinForYall) February 20, 2021
Water shortages throughout Texas as pipes freeze
The extreme weather across the Lone Star State appear to have had some long-term and potentially very serious consequences on the water system. Across the state pipes were cracked by the freezing temperatures, wells were frozen solid and water treatment plants ground to a halt in the cold weather.
As of Thursday 18 February over 800 public water systems, serving 162 of the state's 254 counties, had been affected by the cold. A spokeswoman for the Texas Commission on Environmental Quality told the New York Times that an estimated 13.1 million people had been affected by the outage.
Texas is (mostly) back on the grid, but fallout from the winter storm hasn't ended yet: Clean tap water is still hard to find.

And while Sen. Ted Cruz unpacks his suitcase, Rep. Alexandria Ocasio-Cortez has stepped in to help. pic.twitter.com/lzpbfBaX0d

— The Recount (@therecount) February 20, 2021
The lack of running water has left millions forced to scour local stores in search of bottled water, but were hit by shortages there too and price-gauging by less scrupulous sellers. The lack of water was particularly dangerous for hospitals, which were already overly stretched with the coronavirus pandemic.
Boil water notices issued across Texas
In response to the state-wide water shortages the Texas Department of State Health Services (DSHS) has announced a boil water notice across the state. This calls on residents to take the precaution of boiling their water before drinking it to limit usage and because the water treatment system may have been compromised.
On Thursday the DSHS tweeted: "For safety and water/energy conservation, current water boil notices require you to do many essential and household activities differently."
The United States Centers for Disease Control and Prevention (CDC) added: "If your local health authorities issue a boil water advisory, you should use bottled water or boil tap water because your community's water is, or could be, contaminated with germs that can make you sick."
Leaders of the House Energy and Commerce Committee are demanding answers from Texas Gov. Greg Abbott "for the life-threatening winter weather crisis that has left Texans in the dark without power, heat, food, water, and medicine for multiple successive days."

— Kyle Griffin (@kylegriffin1) February 19, 2021
Residents across Texas are therefore advised to use only bottled or boiled water for drinking, cooking and preparing food. This also applies to any situation where impure water may accidentally be ingested, such as when brushing your teeth or bathing a baby or small child.
CDC guidelines state: "If bottled water is not available, bring water to a full rolling boil for 1 minute (at elevations above 6,500 feet, boil for 3 minutes), then allow it to cool before use."
They advise using disposable plates, cups and utensils to prevent the need to wash them after use, requiring more water. However they add that typical household dishwashers are "safe to use if the water reaches a final rinse temperature of at least 150 degrees Fahrenheit (65.55°Celsius), or if the dishwater has a sanitizing cycle".
Full guidance on how to stay safe during a boil water notice can be found on the CDC's Water, Sanitation, & Hygiene (WASH)-related Emergencies & Outbreaks advice page.