Where are the Delta variant danger zones?
The United States is bracing for a surge of covid-19 cases with cold weather on its way. Two states have now declared statewide rationing of medical care.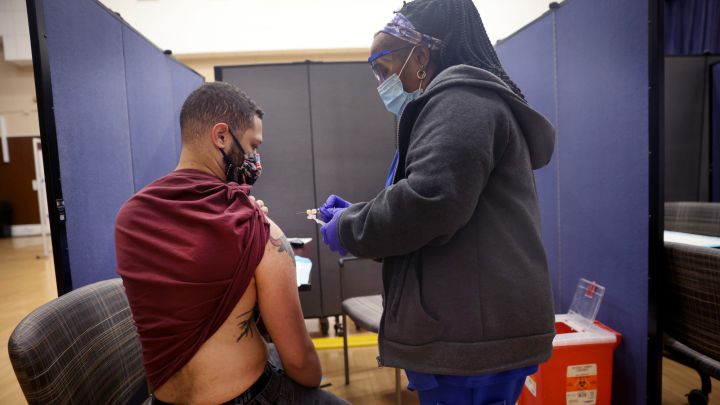 As the covid-19 vaccine rollout gained speed through the spring new case numbers began to fall. But as the high transmissible Delta variant took hold across the US, areas with low vaccination rates are experiencing rates that mirror or even exceed the worst levels last winter.
The surge in new cases is pushing hospital systems to the limit with medical staff forced to make hard decisions choosing which patients they can treat. The situation has become so bad that "crisis standards of care" have now been activated. Where are the Delta variant hot spots in the US?
"Crisis standards of care" implemented
Community transmission is high in over 95 percent of the US but the Delta variant is hitting some areas much harder than others. Hospital systems across the US are warning that they are stretched to the limit with new covid-19 patients, lack of resources and exhausted staff.
Idaho and Alaska activated "crisis standards of care" whereby hospitals can ration medical care based on who could benefit the most from the limited resources available. This affects both covid-19 and non-covid-19 patients and has resulted in non-covid patient fatalities. St. Peter's Health in Helena, Montana announced that it had moved into crisis care standards while other hospitals in the state including the largest hospital system, Billings Clinic, were looking to implement similar standards.
We have the tools to put this pandemic behind us, but we all have to do our part. If you haven't yet, please get vaccinated. And if you've gotten vaccinated, reach out to family and friends who haven't.

Let's finish this once and for all.

— President Biden (@POTUS) September 20, 2021
The lack of beds is forcing patients and those overwhelmed hospital systems to search for room in hospitals in neighboring states or even far afield. Earlier this month an unvaccinated Florida covid-19 patient was flown to Connecticut for a life-saving treatment after his family sought a spot for him at 169 hospitals without success.
The rise in hospitalizations driven by the unvaccinated
The Delta variant which is more than twice as contagious as previous variants appears to be causing more severe illness in unvaccinated individuals. It is also putting more children in hospital than prior strains of covid-19. Breakthrough cases in those who are vaccinated have been reported with viral loads high enough to allow them to spread the virus. However, the vaccinated generally do not experience severe symptoms and rarely need hospitalization.
Besides Alaska, Idaho and Montana other areas with low vaccination rates are experiencing surges in new covid-19 cases. Wyoming, West Virginia, Kentucky, North Dakota, Tennessee, South Carolina, and Alabama join the other three states in the top ten. All ten states have a vaccination rate at or below 50 percent, except Kentucky which has 52 percent of its population fully vaccinated according to the New York Times covid-19 tracker.