ATLÉTICO
Torres: "Now's the moment when the good stuff starts"
One day after his 32nd birthday, the striker received an awarded for being voted Atlético's 'Player of the Month' in February.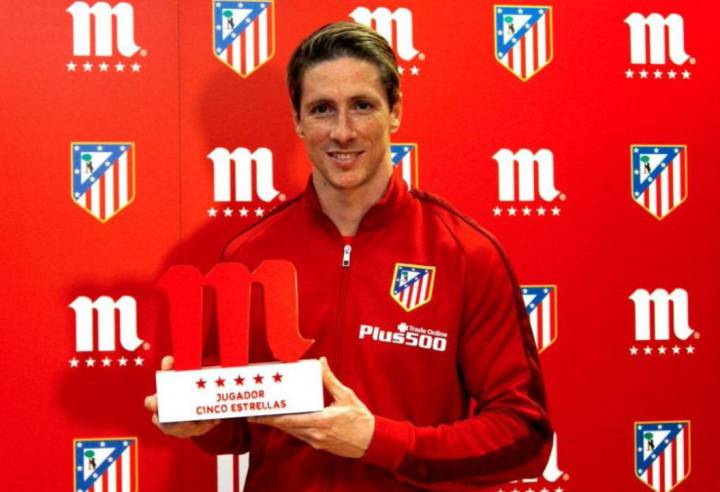 Fernando Torres says he's relishing this part of the campaign as it is "the nice part, when all the good stauuf starts". The Atlético striker, who turned 32 yesterday is looing forward to the Champions League quarter final run-in with Barcelona at Camp Nou on 5 April.
"Now's the moment when all the good part begins, all of the nice things, everything we have fought for during the past few months", Torres said today in a publicity video produced by the club. The striker says that the international break has come at an ideal moment for Atleti, following their 2-1 defeat to Sporting at the weekend.
"It's a welcome break, and for those who are going off to be with their national teams, it's equally as satisfying because you're able to change your mindset a little and that's positive too. Those of us who are staying wil continue training but working on specific aspects of our game so that we're in the best possible conditions for when the league resumes and we have a lot of games, one after the other, straight after this break" Torres explained.
"The important thing is that, when the whole squad is back together, we are all able to change our mindset and focus 100% on Atleti", the player added, in reference to the meeting with Barcelona in the Champions League and the league clash with Betis, three days later at the Calderón.
Torres picked up the 'Jugador Cinco Estrellas' award for being voted the Player of the Month for February. "For me, any gesture from the fans makes me feel doubly happy. It's been an important month for me, for my career, and fo all atléticos, because I was able to score my 100th goal at the Calderón - a moment I will never forget. Recognition from the fans makes it even more special and makes last month an even happier one for me", he said.