DEPORTIVO
Babel: "I joined Liverpool aged 20; but no one helped me"
Ryan Babel sat down to chat to AS about the decisions he has made during his career and how cruel the game can be for younger players. Liverpool vs Manchester United: Premier League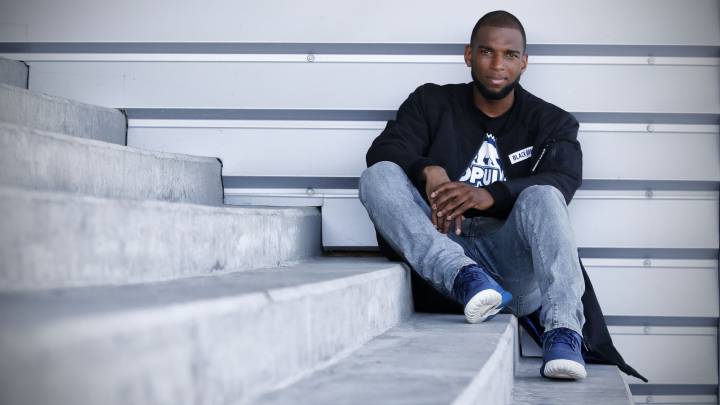 Riazor favourite

Ryan Babel is making an instant impact at Deportivo de la Coruña, where is fast becoming is the new idol at Riazor. He sat down with AS, to look back over some of the decisions he has taken during his career, where football has taken him and reflect on how cruel the game can be for younger players...
How are you adapting to your new life in A Coruña?
Up until now, it's been going really well. I've been at a number of clubs and so I know how difficult the adaptation process can be - starting out anew, settling into a new team… But I have been here one month and so far it's going quite well.
Amsterdam, Liverpool, Istanbul… cities which are all quite different to A Coruña.
Every team is different and you cannot really compare cities either. When all is said and done, football is the same wherever you play it. You have to work hard and try to reach your objectives, improve as a player - that's what football is about. In Germany, I lived in the middle of nowhere. For me, the city or lifestyle isn't that important; what matters is being able to work hard. Here at Depor, the facilities are good, the training pitches and the gym are good… that's what is important to me. I also like the fact that I am able to live quite close to the training ground, and so I don't have to drive very far, or find myself stuck in a traffic jam for an hour on my way to training.
How are you getting on with the language?
It's not easy, but I'm going to Spanish classes. When I was younger, at school, I did study Spanish so I do remember some words and I do my best to understand conversations.
How did feel after your first few games with Deportivo?
It was very exciting for me. It's LaLiga, the Spanish league, I think, together with the Premier League, they are the best leagues in the world. It's a dream come true for me really. I knew that in the first few games, people would be closely watching me to see what I could do, but I have to keep focused to continue improving step by step.
You seemed to really enjoy your debut goal - a thunderball strike against Sporting. What did it feel like seeing that go in?
We'd just had quite a difficult week, we'd gone three games without a win and we felt a little under pressure. The fans are patient with us they continued to support us but we really wanted to win that game. We started well, went 1-0 up, but then we conceded one. Whenever I play, I always want to give my best so that we can win the game, so the timing was perfect - I shot and luckily, it entered.
You said after that game that, for you it wasn't a comeback, as you'd never gone away; but over the past few years we haven't heard that much about you and for a while you were without a club. What happened?
That's just my way of viewing football. You can watch every game in every league in the world if you want to follow a player. I suppose people lost interest in me when I left Liverpool; but it wasn't me who left, it was other people who left me. If people had continued to follow me, they would have seen my two good seasons in Turkey which caught the attention of Beşiktaş and Galatasaray. I also played in the United Arab Emirates, where games are very tough - there are no easy games there. What I mean is that I continued to play well during those years and reached personal goals which I am happy about. But I do understand that in the world of football, I was playing for sides who maybe are not very high profile.
Was the the decision to not continue at a club in one of Europe's major leagues yours or was it simply a case of not having a choice?
I had some options open to me at first, but playing in a big league doesn't always mean that it will be good for your development as a player. When I left Liverpool, I could have stayed in England but that would have meant joining clubs that didn´t play football - just a long-ball game. Ok, so maybe I could have joined one of those clubs, but I wouldn't have been happy playing that style of football, which is why I decided to go to Germany, to Hoffenheim - a side who played good football. Firmino was there and other good players. I was happy to go to Germany where I played for a year and a half then I went back to Ajax, and won the league with them.
My decisions and career choices have prioritized my development as a player; I tried to elect sides who would enable me to continue my international career with Holland. But I didn't get the chance to do that - we can talk about whether it was fair or not, but eventually, I started choosing clubs where I could enjoy my game. I went to Turkey because of Shota Arveladze who I knew from my time at Ajax. That was a great opportunity for me to enjoy my football thinking only about myself, and not about pleasing others.
Did you ever have the feeing that maybe you peaked too early?
I think I was badly coached, neither the coach nor the coaching staff advised me well. I was 20 years old went I went to the Premier League. When you are 20, you need from other people, you need people to talk to you. But when I went over there, nobody helped me. I was alone, and that's difficult for any young player. Not everyone is Messi or Cristiano Ronaldo. Even Cristiano Ronaldo's first years at Manchester United were quite difficult. Everyone was asking what he was doing [on the pitch], or said that he was only playing the kind of football to have videos on Youtube and things like that… but Alex Ferguson helped him, he stayed right by him and allowed him to grow, and now he is one of the best players in the world. Maybe if Ferguson hadn't been so concerned about Ronaldo, then Ronaldo wouldn't be the player he is today.