"Lots of clubs change their badge... the world evolves"
Diego Simeone spoke to the press ahead of his side's trip to El Madrigal: "There will always be people who like change and people who don't."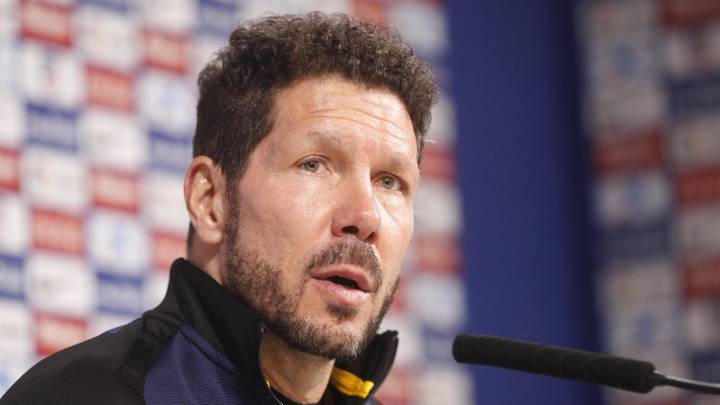 You haven't beaten any direct rivals for the title this season and now you face a Villarreal side who are just that…
"These things happen throughout the course of a season. We beat Bayern and drew with Barcelona, but it's true that we have dropped points in Seville and San Sebastián. Villarreal are used to competing well and playing dynamic football, particularly from midfield to attack, and they are a side who play well collectively. They're dangerous because they play good football."
What do you think about the fans' anger over the change to the club crest?
Evolution is a continuous process in the world. Lots of clubs have been through the same thing. There will always be people who like change and people who don't. Sometimes we are reactionary about change and that's normal, because we are used to what we have always had, but I think we have to concentrate on tomorrow's game."
Do you think Griezmann's goal drought is affecting him psychologically?
"I don't think so. Players are used to going through different phases. He knows his position is one of instants, and he is playing further away from the goal. But he's working hard and he always does something important for the team. He has to keep working so that he can see where he needs to improve and in that way the important goals will come."
Have you given up on the idea of playing Koke as a central midfielder?
"His position is interchangeable. Even if with Tiago in the team, on paper Koke's position is on the left, he's never played on the left. He's always played in the middle and it's a matter of centimetres, he plays a lot in the middle going forward. With Tiago he's protected in the midfield, but that doesn't change his importance to the team because when he attacks he doesn't alter his position much."
Are Madrid running away with the league?
"The great moment they are in has out them in the position they're in. We haven't had the same consistency in our results as Madrid. In terms of results and play all the results for those at the top have been very close."
How do you expect Villarreal to set up in midfield? More closed as in Bilbao or with their usual pair of Trigueros and Bruno?
"Their go-to style is with Trigueros and Bruno in the middle. They have good support on the wings and quick forwards. I expect it will be Bruno and Trigueros. They have played pretty much every game and they'll be at home, where they feel more comfortable."
Will Tiago start in midfield?
"We have a lot of players in that position. Because of their qualities Saúl and Tiago can play there. Tiago's experience in terms of positioning is greater, but Saúl will have in the future. One has experience, the other strength and youth. The competition between the two is very good. Saúl also brings an aerial threat and he gets in between the central defenders well. Both give us a lot, in different ways."
Liga BBVA
Leaders
Messi

11

Goals
Roque Mesa

942

Passes
Illarramendi

169

Steals
*Update 11 de diciembre de 2016