Bahrain GP: Vettel wins with Hamilton second
German driver Vettel in the Ferrari came home ahead of Mercedes drivers Hamilton and Bottas, who had started in pole position.Floyd Mayweather vs Conor McGregor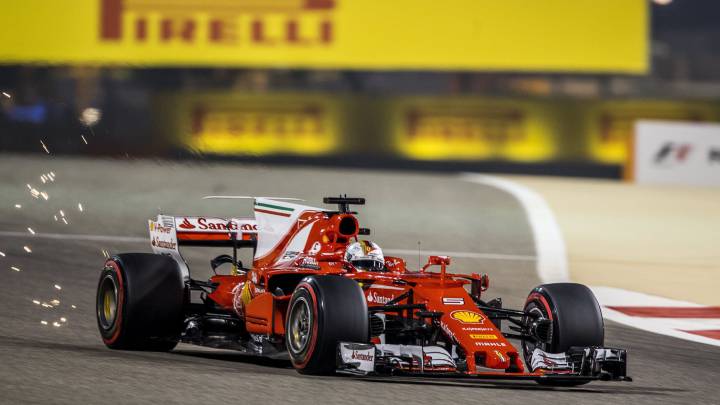 Ferrari's Sebastian Vettel ignored everything going on around him as he took victory in Bahrain and left the two Mercedes drivers back in second and third place. With Bottas, who'd started in pole position suffering tyre problems, Hamilton's strategy failing and the fact that Vettel is a superbly good racing driver, the Ferrari man took his second win of the season, and regained the lead in the driver's standings. Hamilton was second and Bottas third.
Vettel wins two of first three Grand Prix of 2017
In 2011 Vettel won two of the first three races, and he's done it again this year (he won the opener in Australia). He's got a decent car this year, and that's bad news for his rivals. At the start of the race Vettel couldn't get round pole man Bottas, but he soon closed up on the Finnish driver, who was unable to take advantage of his first ever first place on the gird.
Vettel pitted, just before a number of incidents that threw the race into some confusion: Verstappen's brake's failed and he went off, while Stroll and Sainz collided, forcing the safety car on. And with all that going on, Hamilton picked up a five second penalty for blocking Ricciardo in the pit lane.
Vettel first after safety car goes off
When the safety went off, Vettel was first, Bottas second and Hamilton third, asking if he was allowed to overtake his teammate. Not only is he faster generally, the Fin had problems with his tyres. This Mercedes wears the rubber down badly, like they used to do. "Let him go through, please", said Valterri. But Hamilton couldn't, at that point.
Hamilton with an impossible challenge
The British driver headed into the pits for his penalty, before attempting an impossible challenge for the race. He got past Bottas, going 2 seconds a lap faster than both his teammate and Vettel, but came up just short, 6.6 seconds behind the German driver as the chequered flag came down. Vettel conquers in Bahrain and it's off to Russia next.
---
Disastrous weekend for McLaren
McLaren had a terrible weekend, with Fernando Alonso complaining bitterly over the car radio about the lack of power, before the car broke down just before the end. The other car, belonging to Stoffel Vandoorne, didn't even make the start of the race, breaking down before the warm-up lap.
---