Patriots vs Jaguars live stream online: coverage
Brady in the Super Bowl. Lordy, what a comeback. They win it 24-20.
    Well, it should be.
    THAT IS GAME OVER!
    Dion Lewis runs for a first down. And that is game over. 
    Lewis for a couple of yards. 3rd down. 1 timeout left for the Jaguars and they have to stop them here. Will they risk stopping the clock?!
    2nd and 12. 
What a defensive play. Gilmore with the play. 4th down and Jags turn it over.
    They have to pick up 14 or else this is over!
Bortles picks up 5 with the pass to O'Shaughnessy. 4th down.
Bortles in shotgun. Sacked and drops the ball. Harrison with the sack. 
    Fournette was there as Bortles lobs it towards him. 
    29 yards it was.
Westbrook with a catch now for another huge chunk. 
    Lee picks up eight.
Bortles. 1st down and Gillette Stadium is loud.
4 point lead now for the Patriots. 
    CATCH! Amendola with the catch and that is heartbreaking for the Jaguars. It will be reviewed. Brady right in the back of the endzone.
Dareus down and it's 2nd and goal now.
    Brady with the QB sneak. 1st and goal.
    Miles Jack being helped to the sideline. He can't put weight on his own leg. Not good for the Jaguars. Second and 2 for the Pats.
    Amendola with a catch. 
    James White with the catch and run. 15 yard line and Patriots looking good.
Amendola returns it and it's inside the 30. That's field goal range so unless the Patriots turn this over, you have to think they'll tie this game at the very least.
    Huge ask for this dedense. 
    3rd and 10 and Bortles has to throw. Bortles does but he was nearly sacked. James Harrison nearly gets to the QB. Punt!
    Bortles play nearly picked off. Play action.
Run up the middle and there's no gain there.
    Jaguars need to get something here, even if it's a long drive. 
    Smith with the batted pass and that's 4th down.
    3rd and 10 now. 
    Brady over Lewis shoulder. No good. 
Patriots with the pass and that's pass interference. 
    Lewis looked to have been held and wants a flag but there's none. Punt and Patriots have it back!
    3rd and 9! 
  Borltes on 2nd and nine. Deep ball down the left. Westbrook was the intended target.
    Bortles to Hurns. What a throw and catch. He picks up 20!
Fournette stuffed on 1st down and he picks up one yard.
Kic-off and the Patriots are FIRED UP! 
    Brady in the endzone. Amendola comes across the middle and catches it before making his way to the end zone.
    Brady with the throw to Amendola. Goes for 11 and the Patriots are in the redzone!
Pass to Amendola but that won't stick. 
    Brady with the flea flicker, Dorsett with the catch!
    1st DOWN! Can they? 
2nd and 18, Brady drops back and that is no good. Hogan the intended target.
Brady sacked! 
  Brady with the pass to Cooks. 
    3rd down catch by Herns but short! Punt.
3rd and 7 now. Bortles asked to do something. This play is crucial. I kepe saying that but it really is. 
Fournette runs it. Not much doing but clock winds down.
It's being reviewed. Does he have a knee down. The ball was definitely loose but whether he gathers control again is another thing. 
    1st down Jacksonville. Jack takes the ball away from Lewis. Crazy play anyway before that happened. 
    We have some drama! 
2nd and 8 and Cooks grabs it. They're driving.
FIELD GOAL and Jaguars lead 20-10.
    Bortles misses and it's 4th down. Field goal. Straight down the middle!
    3rd down now for Jacksonville. Fourth quarter coming up too. They're in field goal range so they might have a shot at the end zone. 
    Bortles bootleg and he throws to his tight end but that's in and out of his hands. Dropped pass. We haven't seen many of them at all by Jaguars receivers but that wasn't great.
    And the play option opens all the way back up again. Toss to Fournette goes goes for another first down.
    Bortles so well done as he checks down to Lee.
Flea-flicker and Bortles to Herns and it's another first down.
Decision time for the Patriots. Lee picks up the first down! Great game management from the Jaguars.
    Fournette gets to the 16 yard line and it's 3rd and three maybe. Some options for Bortles now.
    Fournette with the carry. Pats key in on him and they know exactly what's coming. He losses a yard.
Huge drive for the Jaguars.
    Jaguars stop them! Lewis nearly gets it too but they'll have to punt. Good call from Romo, who says Belichick has to trust his defense!
Lewis with a run and then a catch in two consecutive plays. 3rd down. Can tha Jaguars stop the Patriots.
Amendola returns it but not much happening there.
Hand-off and Yeldon is dropped for a gain of just two! Punt upcoming. 
Bortles with play-action and gets sacked! 3rd down and Patriots about to turn the screw here.
    White with another short pass in the middle. 4th down. Patriots have to punt.
    Dion Lewis with the catch, a kind of dump-off but he picks up four.
    Cooks wide open. Perfect throw and he doesn't catch it. Cooks needs to do better there in such a tight game, seven down. Brady or Belichick won't be happy.
Brady to Hogan. 1st down on 3rd down! 
Cooks surrounded by defenders and wants a flag but not coming.
    Tom Brady back up! He had the bandage on his thumb readjusted and some glue put on to keep it tight. He's on the field now and hands it off. Not much luck on 1st down.
    Field goal would have been good from 64 yards! It was 54 officially and it's GOOD! 17-10 Jaguars.
Flowers with the batted pass. Field goal attempt upcoming. Pats get a big stop.
    3rd down again. Fournette with a lovely spin move to break free and it's 3rd and 4. Gillette Stadium is loud!
Fournette with the first down run. Left tackle, Cam Robinson has a shoulder injury and is questionable too!
Here is NFL.com's article on Gronkowski's head injury. This could be huge.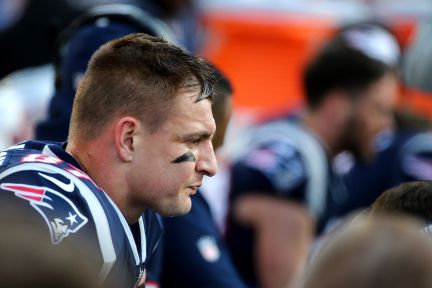 3rd down and Bortles stands up in the pocket and connects.Yeldon catches and dives forward for the first down! The Pats had them just where they wanted him.
Pure passing situation.
Fournette swallowed up. Two 1 yard runs on 1st and 2nd down. This is where Bortles doesn't want to be! 
2nd and 9 now for the Jags. 
Start of the third quarter! Bortles throws it to his full back. Bohanan drops the shoulder nails Chung and gets a first down.
HALF-TIME! 
    Bortles take a knee and it's 14-10.
HT upcoming as Jaguars touch it back from the kick-off.
TOUCHDOWN Patriots! That's white who gets it, handed off to White and he has loads of room to get in there.
    Massive and Patriots get to the one. Cooks catches in the middle of the field.
  Long pass down the sideline and that's defensive pass interference. 1st down New England at the spot of the foul. 
    Gronkowski in and out of his hands. Flag too as he gets hit in the head. Church the one leading with his head.
White catches it and gets out of bounds now too. Patriots driving but Jaguars not giving up that big play.
Brady across the middle now and that is complete. One time-out remaining.
Cooks with the catch. That's a first down and he gets out of bounds too. 
Bortles spins around ends up being sacked but that looks like a hold. And it is. Jaguars have to punt now and the Pats have a chance to respond.
    3rd and 12 now and we still haven't reached the two-minute warning. 
That's caught by Lewis. Flag on the field but he has the catch. Delay of game is the problem.
We have the two-minute warning as the Jaguars slow it right down. 
    2nd and 11. 
    Caught! Cole down the right side. Bortles connects and there was a doubt that it was a catch but they get the next play away and it's a run for nothing. And a flag. 1st and 15 now.
Patriots all over the run. Fournette stopped again.
Fournette into a wall for one yard.
Patriots forced to punt! 5 left in the quarter.
Brady hits the ground on 3rd down. 
Patriots with the 1st down catch. Burkehead nailed in the back too. He drops it in the end.
    1st down for the Pats. Gronk is the target again but he can't make that. So difficult.
    Gronk catches that one. He gets hit straight in the chest too. He's being hit on every play!
Brady looks for Gronkowski. Gipson, the corner, does enough to put the tight end off! Excellent throw that Gronk typically catches.
    Patriots return the kick-off and there's a flag against them. Holding.
    TOUCHDOWN! Fournette straight into the endzone.
    Fournette with a first down on 3rd and 1. 1st and goal for the Jaguars.
    Yeldon again and he gets a massive chunk. 12 possible? Depending on the spot.
Yeldon with a catch and losses three. 2nd and 13.
Fournette with another first down. Patriots defense is in trouble here. They have no response to the Jaguars and their play calling.
Here we go. Massive play. 3rd and 2 for the Jaguars. Hand it off and Fournette. HE GOT IT!
    Bortles checks down to Herns and picks up another 1st down.
Herns picks up another 1st down on 1st down. He makes his way down the sideline.
    Can the Jaguars extend their lead. 1st and 15 after a penalty on the first down. Grant picks up 15, it looks like, and that's another first down.
Patriots no with a 3rd and 11. Hogan the target but Gipson gets enough on the wide reciever to stop the catch! Call for PI and he might have a case but nothing coming from the refs.
Patriots return the kick-off and look to reply to that TD by the Jaguars.
    Bortles to Lewis. Play action and Mercedes Lewis is wide open! TOUCHDOWN! 7-3.
    1st and goal.
Another massive gain by the Jaguars. Grant picks up the first down and almost sneaks into the endzone. They're having their way with the Pats now. 
Cole catches it as Bortles wheels around after the play action. Picks up maybe 15? Jaguars driving. 
    Fournette with another chunk on first down. 5 this time.
    2nd and 3 and Fournette drops the shoulder and drives forward for a 1st down. Bortles not being asked to do too much yet and as long as that run game is good, the play action is always an option.
Grant picks up 20 from a RPO - Run Pass Option - as Romo explains. Not bad at all! 1st down.
Amendola goes for a handful now. 3rd down and 3. Really good stop by Jaguars as White is stopped behind the line. Ball came out but the play was dead! New England Patriots ready to punt. 
A close-up of BRady's hand shows a black bandage on his hand. Not sure how much damage is under the bandage but sure created plenty of headlines!
Brady hands off to Dion Lewis who skips inside and gains four.
Brady on play action, finds Cooks and goes for 11. First down!
    Malcolm Butler breaks up the third down pass. Lee had a real chance to catch that but the ball was slightly behind him. As Tony Romo says, it forced him to kind of adjust his body and slowed Lee down while letting Butler get a hand in.
    Bortles in shotgun and lobs it towards Yeldon down the left side of the field. Van Noy does enough and breaks it up.
First down run goes for two and Jaguars have a 2nd and 8 to deal with.
Bortles to Herns and does enough to get their second first down of the drive.
    2nd and 7. Looked like a busted play as Bortles turns to fake the hand-off but he throws to Fournette and he picks up three!
Fournette goes for two. Then play action and Bortles runs around in the pocket before he dumps it off for Fournette. On 2nd and 8, the Jaguars convert to keep this drive going.
Jaguars back in possession. 
Gotswkowski with a field goal to give Patriots a 3-0 lead! Brady sacked just before that.
Dion Lewis sneaks 5 yards on 1st & 10. Then Brady unleashes a fine throw, that hand looks ok, to Brandon Cook for a 31 yard gain. 
Patriots start with possession...
Off we go!
Huge American flag unfurled at the Gillette Stadium and it's anthem time... hands on hearts for most.
Just to confirm, Patriot's quarterback will be playing despite having apparently injured his thumb earlier in the week. Brady was wearing a strip of black tape on his right hand and a white glove on his left hand during pregame warmups. He wasn't wearing a glove on his right hand.
Prediction for this match is for the Patriots to take it fairly comfortably. Check out our predictions and picks courtesy of Omnisport's Ron Clements, who in summary says: "While the Jaguars have been impressive in beating the Bills and Steelers, the defending Super Bowl champion Patriots present a substantially more fearsome challenge. Bortles has been far too inconsistent throwing the ball to trust the Jaguars at Gillette Stadium against a seasoned team like the Patriots, even with Tom Brady nursing an injured throwing hand."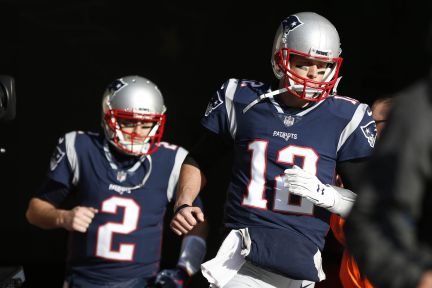 This year is Super Bowl LII (52 for those of you whose Roman numerals are a bit rusty) and that match will be held on February 4 at the U.S. Bank Stadium, Minneapolis, Minnesota. Which also happens to be the home of the Minnesota Vikings, who take on the Philadelphia Eagles in the other Conference Championship match (which follows this match). 
Good evening and welcome to our coverage of  the Jacksonville Jaguars at the New England Patriots, the AFC Championship game, with the winner going on to play in the Super Bowl. 
New England Patriots vs Jacksonville Jaguars: preview
Last year's winners face off against a team few expected to see the playoffs let alone make it to the AFC Championship game. This is a game between two teams with vastly different histories in the league. The Patriots are the definition of a footballing dynasty under Bill Belichick while the Jaguars have never won a Super Bowl. They are celebrating their first division title this century, however, and will be keen to prove they belong up there with the very best and they could also be the team to put an end to the Patriots reign after reports surfaced just a few short weeks ago that the relationship between Robert Kraft, the Patriots owner, Bill Belichick and Tom Brady had not yet expired but was starting to turn sour.
New England Patriots
The big news coming out of Patriots training during the week was the injury to Tom Brady's throwing hand. Arguably, the greatest quarterback to ever throw a spiral, Brady's health is of paramount importance to the Patriots' chances.
Brady refused to answer questions about his hand after practice on Friday but waxed lyrical about their opponents on Sunday: "It's the best team we've faced all year. They're here for a reason. They obviously are a top-ranked defense in the league. Great players at all levels. Really well coached. Scoring a lot of points. So, we're going to have to play really well."
When asked, semi-jokingly, whether it was a "thumbs up or a thumbs down for Sunday," he replied that he wasn't talking about it (the reported cut on his thumb). He remains questionable on the injury report and you have to feel that his absence or inclusion will go a long way to deciding who represents the AFC in the Super Bowl.
Jacksonville Jaguars
Nicknamed Sack-sonville for their ability to get to the quarterback, they will be hoping to have Brady, if he plays, or Hoyer shaking in their boots in the pocket. Their team is built around their defence and they will be hoping that their reputation alone will be enough to have a skittish QB under centre whenever they take to the field.
After a win over the Pittsburgh Steelers that few saw coming last weekend, the Jaguars are now in a 'nothing-to-lose' position as they try to beat the greatest team of this century to a second consecutive Super Bowl appearance and a third in four years.
Doug Marrone, the Jaguars head coach, had a healthy Blake Bortles practice fully on Friday but Leonard Fournette, the team's running back was limited in action in the build-up to the big game.