Keylor Navas bids Madrid adiós and takes private plane to Paris
The goalkeeper flew directly to the Paris first thing this morning to complete his transfer to PSG. Areola's loan deal and Mariano, Madrid's only unfinished business.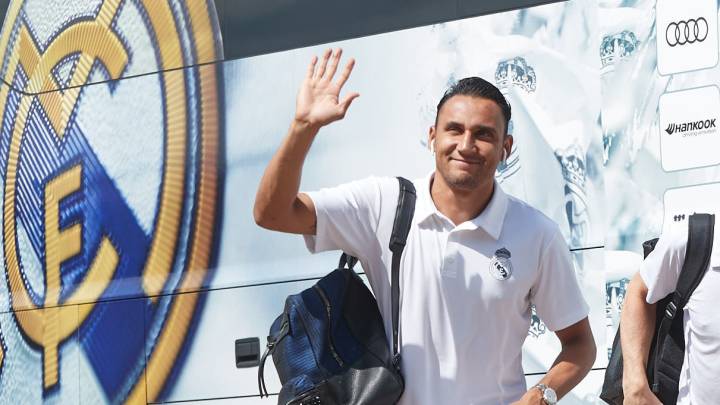 The transfer window in Spain closes tonight and Real Madrid only have one new arrival to register with LaLiga before the clock strikes midnight - the arrival of Alphonse Areola, who will be joining on loan as part of the operation in which Keylor Navas will move in the opposite direction to join PSG. The Costa Rican goalkeeper was on the bench for last night's game against Villarreal - simply because Zidane doesn't have anyone else. But he wasn't with the squad in their return to the capital after the game - instead, he was driven to Castellón airport where he took a private plane direct to Paris. This morning, he will complete his move to PSG.
Madrid aren't expecting any more signings today although Zidane didn't rule out "one, or maybe even two big signings" when he chatted to the media on Saturday. The club will also be handling Mariano's proposed departure. According to El Chiringuito, Areola has already passed a medical and will take over as second choice to Courtois; he will become the sixth arrival at Madrid since the transfer window opened in July following Rodrygo (€40M), Militão (€50M), Jovic (€60M), Hazard (€100M) and Mendy (€48M): in total, Los Blancos have spent 298 million euros this summer.
Until the details of Keylor's transfer to PSG are revealed, the total amount of money received for outgoing players can't be calculated. As it stands, Madrid have gained a total of €125M for the sale of Marcos Llorente, Kovacic, De Tomás and Theo. Ceballos and Vallejo both left on loan. As for Lucas Silva, who has one year left to run on his contract (and a salary of €2M after tax), the club is not optimistic about finding him a new club. Madrid had envisaged making money by selling Bale and James, but both appear to be staying.
No Pogba, or Neymar
So Zidane has been left without the one player he has been asking for all summer - Paul Pogba. If Mariano leaves, Madrid will be able to fullfil the requirement of a complete squad of 25 players plus Rodrygo, who is registered with Castilla. Nor is there any margin with non-EU players - until Fede Valverde gets his EU passport, he will remain one of the three non-EU players along with Militão and Vinicius.
As for Neymar, he's staying with PSG but he hasn't closed the door on the possibility of returning to Spain in the future - including to the Bernabéu...