Canelo and Golovkin agree terms for a third fight
Saúl Álvarez and Gennady Golovkin have verbally agreed to meet for a third fight but the announcement has been delayed due to the Covid-19 outbreak.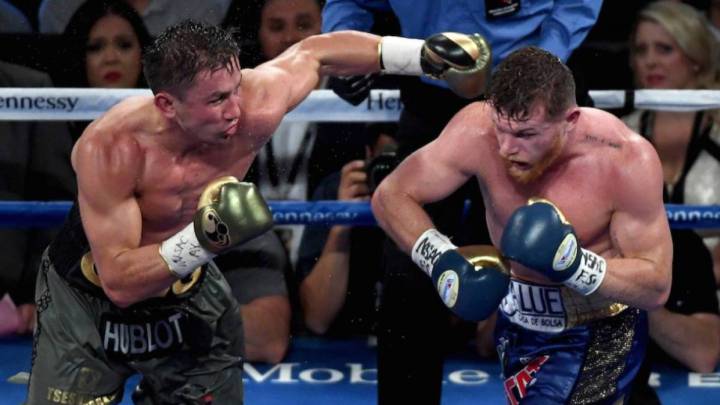 Saúl "Canelo" Álvarez is scheduled to fight Billy Joe Saunders in May for the super middleweight title in Las Vegas, Nevada, but due to the coronavirus pandemic it might get postponed like many other live sports around the world.
The four-division champion has reportedly settled financial terms with the opponent he will face later this fall and this Tuesday The Athletic informed that Álvarez and Gennady's people have reached a verbal agreement for a third fight and it would be scheduled for September of this year.
Canelo (53-1-2, 36 KOs) will face fellow middleweight title holder Gennady Golovkin in a very anticipated trilogy on September 12 during Mexican Independence Day weekend at the AT&T Stadium outside of Dallas. Those are the terms that Golden Boy Promotions and Canelo's corner put on the table if Golovkin really wants this third fight against the Mexican boxer.
Álvarez, who currently holds the WBA middleweight title and secondary WBA belt at 168 pounds, is still expected to fight Saunders (29-0, 14 KOs) even if the combat is pushed back to June, but Canelo might choose to skip this fight to prepare for Golovkin.
Currently, the Mexican boxer is negotiating with Golden Boy for extra money to take on the fight which exceeds the base guarantee being paid to him by DAZN, after he signed a landmark 10-fight, $350 million deal.
History between Golovkin and Canelo
The first time they faced each other was in 2017 and the fight ended in a controversial tie due to the judges scores. A year later they met again and this time Canelo demonstrated he was the clear winner and by the time they face each other again in September Alvarez will be 29 and Golovkin 38-years-old.