Sturgeon calls for discussion on border controls and reform in Scottish society
Nicola Sturgeon has outlined her hopes that Scotland can use the end of lockdown as an opportunity to reform with discussions on-going about border control powers.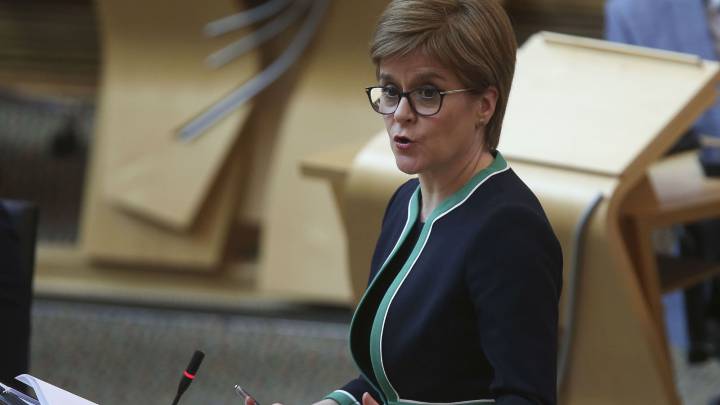 First Minister Nicola Sturgeon has suggested that we may soon see Scotland's coronavirus strategy differ from that of the rest of the UK. Speaking on the Andrew Marr Show on Sunday, Ms Sturgeon was asked if she would consider deviating from Downing Street's plan:
"On this question of will Scotland do things differently: not for the sake of it, we won't. Only if the evidence and our judgment tells us that is necessary".
"If the UK Governmenttook decisions that I thought were premature in terms of coming out of the lockdown, then clearly I would want to make sure Scotland did what I judged was best to protect the population", she said.
When asked by Andrew Marr if she had the power to close the border if she felt that Scotland needed to maintain the lockdown for longer, she revealed that had been a consideration:
"I don't have the power to close borders but these are discussions we want to continue to have with the UK Government."
All of the UK has now been in a state of lockdown for five weeks and some figures suggest that people are beginning to flout the restrictions. Mobility data collated by Apple has shown a marked increase in directions for walking and driving in recent days, possibly due to the sunny weather.
Boris Johnson used his first speech back in Downing Street this morning to reiterate the government's plea to continue to adhere to the social distancing measures.
Follow our live coverage of coronavirus news from around the globe.
UK showing signs passing peak, says PM
I know lockdown gets tougher as we head into the weekend, and the weather gets better (even by Scottish standards). But it really matters that we stick with it - we're seeing some progress but it will be quickly reversed if we ease up. So PLEASE, #StayHome - it will save lives 🙏

— Nicola Sturgeon (@NicolaSturgeon) April 24, 2020
The PM said the UK was showing "real signs now that we are passing through the peak" and hinted that preparations are being made for the second phase of the battle against the coronavirus.
Ms Sturgeon struck a more cautious tone in her interview on Sunday and spoke of "a real need for caution and slow, gradual process" when it is finally time to ease the restrictions.
She also wrote a column inthe Herald on Sundaysuggesting that the loosening of lockdown restrictions could provide an opportunity for Scotland to introduce some changes.
She revealed that Scotland will"look seriously at social and economic reform"when considering its lockdown exit, further hinting that it may differ from the rest of the UK. She called on Scots to view it as an opportunity to "think together, and work together, to decide the kind of Scotland we want to emerge from this crisis".
The latest Scottish government data shows that 1,249 have died after testing positive for coronavirus but,as is the case with all daily figures, it is feared that the actual death toll is far higher.