Kayleigh McEnany says science shouldn't stand in the way of schools reopening
The White House press secretary reiterated the Trump administration's determination to open schools despite surging Covid-19 cases across the USA.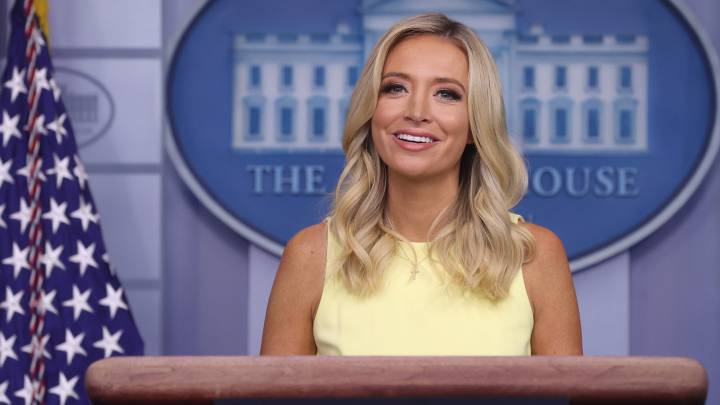 Donald Trump's press secretary, Kayleigh McEnany, has said science is on the side of the US government as it looks to reopen schools across the country despite the increase in numbers of Covid-19 cases being reported daily.
"When he [Trump] says open, he means a complete reopening, so that kids can go to school every day," McEnany said during a press briefing at the White House on Thursday. "The science should not stand in the way of this. For instance, you look at the JAMA Pediatrics study of 46 pediatric hospitals in North America that said the risk of critical illness from Covid is far less for children than that of seasonal flu. The science is on our side here, and we encourage for localities and states to just simply follow the science, open our schools."
Trump: "political reasons" behind schools remaining shut
Case Study in Media Bias:

I said: "The science is very clear on this...the science is on our side here. We encourage our localities & states to just simply follow the science. Open our schools."

But leave it to the media to deceptively suggest I was making the opposite point! https://t.co/vlxk3zRsgh

— Kayleigh McEnany (@PressSec) July 16, 2020
Some commentators picked up on McEnany using the phrase "the science should not stand in the way of this" after the US president said earlier in the week: "We have to get the schools open. We have to get everything open. A lot of people don't want to do that for political reasons, not for other reasons." However, the White House press secretary suggested the media had misinterpreted her words in a subsequent tweet.
The US is experiencing a huge surge in coronavirus cases with many states reintroducing restrictions in a bid to curb the spread of the disease. The Trump administration has proposed reopening schools in autumn, but the Centers for Disease Control and Prevention and White House Coronavirus Task Force specialist Dr Anthony Fauci have said it may be more prudent to keep students at home until the virus is under control and to gradually open schools again in phases.