Leo Messi shown red card in Spanish Super Cup final against Athletic
The Barcelona forward was shown a straight red card for taking a wild swing at Asier Villalibre in extra-time.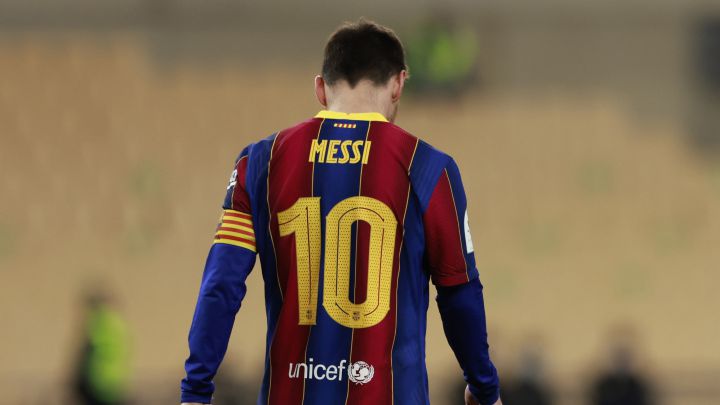 Leo Messi was given a straight red card in extra-time in the Spanish Super Cup final for taking a swing at Athletic Club player Asier Villalibre, with Barcelona trailing 2-3. Athletic held on to take the title.
This is Messi's first red card while playing with the Barcelona first team, coming on his 753rd appearance. He picked up a red card with the Barcelona B team against Peña Sport de Talafalla on 27 February 2005.
Messi has been sent off twice for Argentina, including his famous debut, when he got his marching orders within a minute of coming on.
(Graphic from SofaScore)

Messi's violent conduct spotted on VAR
Leo Messi's action was spotted on a VAR review, and referee Manzano showed the Argentinean a straight red for violent conduct.
Apart from a lively spell near the end of the first half, Messi had been fairly subdued in the match, and let his frustration get the better of him, as the clock ran down towards Athletic's victory, which came thanks to a superb Iñaki Williams strike right at the start of extra-time.
According to the resident referee at AS there was no doubt about the red card: "The referee has to send Messi off because he moves his arm. It's a red card. He gets on top of Villalibre and swings his arm. Red."
How the Super Cup final happened
Messi ban
Without doubt Messi will miss Barcelona's next game, in the Copa del Rey, against Cornellà. However the Competition Committee will review the incident and could ban Messi for one to four games. If the action is considered as deliberate aggression the suspension will be the full four games.
Villalibre: "The aggression is clear"
Asier Villalibre, the Athletic player Messi lashed out at, also spoke after the game: "There's no need to stir up controversy. I think the aggression from Messi is clear. Frustration at not being able to do anything is normal, but it's fine."