Varane could be key to Mbappé operation
With PSG's interest in wantaway Real Madrid defender Raphael Varane, the Frenchman could be used as leverage in the operation to sign Kylian Mbappé this summer.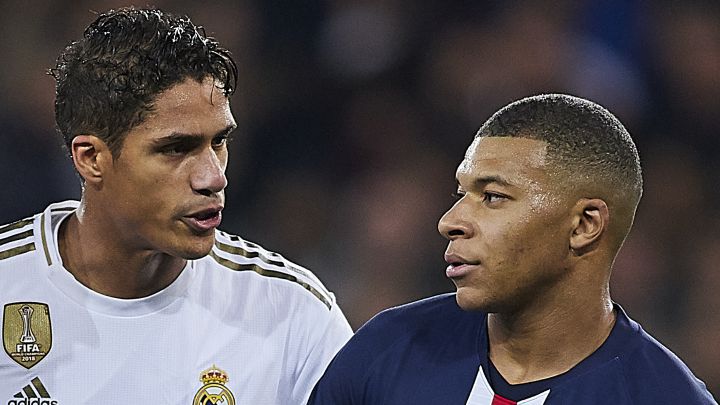 Raphael Varane could serve as important leverage for Real Madrid in this summer's transfer market.
With just one month to go until the end of the season, the French center back, whose current contract ends in 2022, has yet to agree terms with Madrid and is understood to be eager to explore new options after ten years at the Santiago Bernabéu.
"My future is clear," said Varane in the press conference ahead of Tuesday's clash with Chelsea, but he did not mention a word about a possible renewal. Madrid has been preparing for Varane's exit for a while and now without the prospective income that would have come from the now-sidelined European Super League, the club needs to explore new strategies when it comes to signing Kylian Mbappé.
PSG's interest in Varane

One strategy could stem from PSG's interest in pairing Varane with Marquinhos, or Kimpembe on the occasion that the Brazilian plays as a holding midfielder. Madrid expects to obtain around €80 million euros for Varane. If negotiations open with the Parisian club, it could help to grease the wheels of the Mbappé operation.
But of course Varane will be the one to make the final decision on his destination and he also counts on the interest of Chelsea and Manchester United. But wherever he ends up, the €80 million would go a long way in helping to fund any move for Mbappé -- or Erlign Haaland if the attempt to sign the French superstar fails.
Between sales and salary savings, Madrid aims to come up with €250 million euros to finance the Mbappé operation. With Vinicius being ruled out by Florentino Pérez himself as a trading card to offer PSG as part of a deal for Mbappé, the most valuable asset to trade would be Varane.

Real Madrid's search for central defenders
With Varane and captain Sergio Ramos on the cusp of leaving the club this summer, Madrid's central defensive line-up is currently in the process of being reshaped for next season.
There had been question marks hanging over Eder Militao, but his performances over the past six weeks has radically changed his situation. Nacho has also looked solid in the absence of the injured Ramos, while Bayern Munich's David Alaba looks closer to a Madrid move than ever.
The casting for central defenders that Real Madrid has been working on for months is not only aimed at finding an immediate replacement for Sergio Ramos, but also promising you talent for the longer-term future. Jules Koundé is high on the club's agenda in that regard but Sevilla's €90 million clause on the 22-year-old Frenchman means that option would not be financially viable at the moment, as he would cost more than what Madrid will recoup for Varane.