PSG in race to sign Ramos as contract runs out at Real Madrid
With less than two weeks to go until the end of the LaLiga season and with his contract talks at Madrid stalled, the Parisian side have set about convincing the centre-back.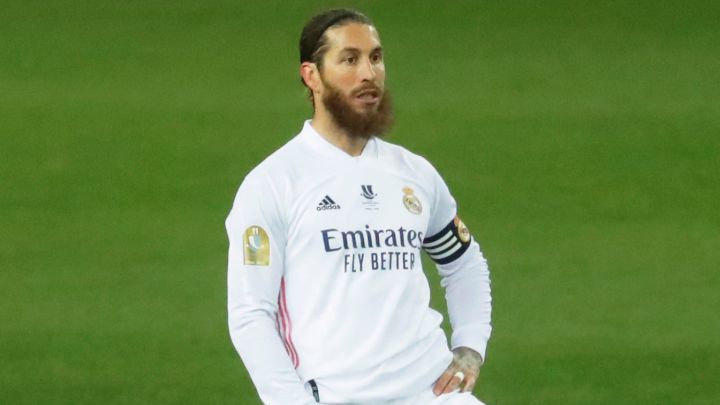 Sergio Ramos' future will be decided in the next few weeks. His renewal with Madrid remains stalled and neither side has budged from their negotiating positions. Madrid are not improving their offer, which includes another year, with the same salary he currently receives and a 10% salary reduction. Ramos' objective is to remain with Los Blancos, but is asking for one more season than the club are willing to offer. The problem is that time is running out with no solution in place. There are less than two weeks to go until the end of the LaLiga season and a month and a half to go until the end of Ramos' contract with Madrid.
In the meantime, big clubs are approaching the player's entourage to enquire about his situation and prepare an offer for the coming weeks. For the moment, there has been no firm offer, but the captain is aware of the interest. Paris Saint-Germain appear to be the most interested in signing him.
Talks between Pérez and Ramos

Ramos discussed his plan with Florentino Pérez in January, in a meeting they both had in Elche the night before a LaLiga match. "PSG have told me that they will make a great team with Messi and myself", the centre-back told the Madrid president. Although the signing of the Argentinian seems difficult, the signing of Ramos is possible. PSG manager Mauricio Pochettino spoke about a potential move in a press conference a few days ago.
"Sergio Ramos to PSG? I'm not going to answer because anything could be misinterpreted... Sergio is currently a Real Madrid player. But what I can tell you is that, like every team, we all want to improve certain positions." It is worth remembering that the French side have been in need of defensive reinforcements for a couple of seasons and now see Ramos as an ideal candidate because of price and experience, although they are also monitoring Raphael Varane.
The Real Madrid captain has also fuelled the rumours on social media. Several days ago, he began following various PSG players on Instagram, a gesture that many fans saw as a first step towards establishing a relationship with them.
The Neymar factor
Another aspect that could be definitive in seeing Ramos at PSG is the recent extension deal signed by Neymar. The relationship between Ney and Ramos is very good. Both had worn the same brand for a long time, Nike, before the forward left for Puma. They have also exchanged compliments in recent years. The Brazilian said in 2019 that the Spanish captain has been the most difficult centre-back he has faced. Messages between both players have been exhanged on social media. When the PSG star announced his PSG renewal on Instagram, Ramos commented on the post with an applause emoji, perhaps a sign of things to come this summer.
Ramos keen on extending deal
Despite everything, Ramos' intention is to continue at Real Madrid. The captain wants to finish his career at the Bernabéu and knows that Florentino is preparing a winning project that he wants to be part of.