OTHER SPORTS
Anthony Joshua vs Oleksandr Usyk fighting purse: how much money are they making?
The WBO, WBA and IBF heavyweight titles are on the line for this bout between Anthony Joshua and Oleksandr Usyk in London's Tottenham Hotspur Stadium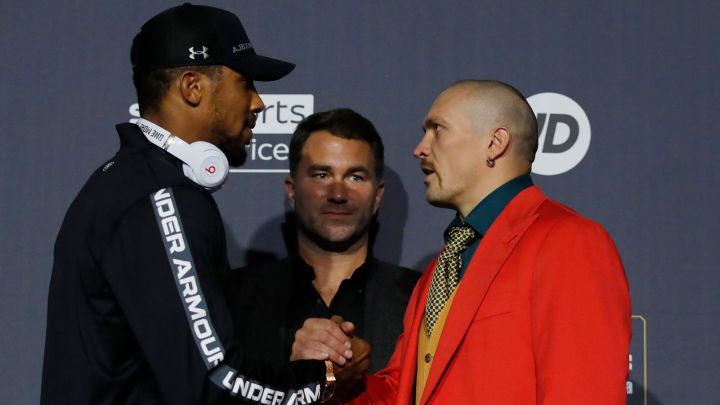 Fight fans all over the world are waiting with bated breath for the upcoming clash between Anthony Joshua and Oleksandr Usyk on September 25th. Too big for any arena or casino, this titanic encounter will be held in north London's Tottenham Hotspur Stadium, where the 62,000-plus capacity venue sold out in only 30 minutes. This would put the box office alone in the ballpark of $15 million. Demand for seats was reportedly three times that number, so the pay-per-view numbers will likely be very healthy indeed. And with merchandising both in-venue and in post-fight advertising receipts added in, the amount of money involved is potentially staggering.
AJ is the current favourite

The uninitiated might be forgiven for wondering what the fuss is all about. Anthony Joshua is the current 8/1 favourite to win and retain the WBA (Super), IBF, IBO, and WBO belts. His meteoric rise from a youthful stretch in prison to Olympic gold in London 2012 and then to heavyweight champion in only his 16th professional fight is a 21st century Horatio Alger story. His star has burned ever-brighter since then as he went on to face and defeat the previous heavyweight king in Wladimir Klitschko. His career has not been without its questions, though. Klitschko was definitely past best, having been dethroned 18 months previously by "The Gypsy King" Tyson Fury. The match between Fury and Joshua has yet to materialise, partly due to concerns over Fury's mental health. And then there is Andy Ruiz. Out of shape and seemingly unmotivated, late replacement Ruiz used his lightning fast hands to great effect and handed Joshua his only defeat, plucking all four belts from him in the process. The rematch saw the wrong righted, but it left the illusion of Joshua's invincibility lying in a sweat and blood-soaked Madison Square Garden ring.
Usyk's story

Oleksandr Usyk's story is no less breathtaking. The Ukrainian also won Olympic gold at the same London games that saw Joshua win his medal. He entered the professional ranks as a Cruiserweight and his undefeated run saw him ultimately possess all four major belts, the only Ukrainian to do so. He saw off all serious challengers in the division but after Tony Bellew dropped from Heavyweight to take the fight, Usyk decided to vacate all of his Cruiserweight titles in order to step up to Heavyweight. He is not the first fighter to do so, Evander Holyfield made the same choice thirty years previously and for the same reason. The quality opposition, and of course the possibility of a decent payday, lies in the Heavyweight division. His skill is unquestionable, his awkward southpaw stance makes him a tricky opponent and he definitely has the boxing pedigree to handle the big moment. But at the weight he has only had two fights, both easy wins over latter-day solid fighters who lacked the stamina to last deep into the fight, both ultimately worn down by the younger Usyk's quick footwork and ring marshalling abilities. This won't be something that he can count on with the younger Joshua, who has shown that he can go the distance and has the nous to cut off the angles in the ring with world-class opponents. As great a boxer as Usyk is, and he most definitely is, he has yet to face anyone of Joshua's calibre.
Negotiations: it's all about the money

When Joshua's camp failed to make terms with Tyson Fury's for their long-awaited bout, the WBO ordered Fury to fight Deontay Wilder and Joshua to take a fight with Usyk. Oleksandr wasted no time in calling out Eddie Hearn in a video message where he told the Matchroom promoter, "Eddie, I want money. More money."
The Bottom Line
The fight purse is in many ways quite straightforward. As you would expect, the reigning champion commands the higher fee while the challenger accepts the opportunity to compete for the title as part of his recompense. As the champion, Anthony Joshua is to receive a guaranteed $10 million and 60% of the PPV revenue, while Usyk settled for $3 million and a 40% share. The final amount that each fighter will take home and the lion's share of the profit will depend heavily on the pay-per-view figures. If broad estimates are to be believed, the final figures tend to hover around $50 million for Joshua and $15 million for Usyk.
The Future
Each fight has, as a matter of course, a rematch clause in it guaranteeing that should the champion lose the bout, he is offered the opportunity to try and win his belts back. It is unlikely that Usyk's team would have been able to add a rematch clause for a close defeat visited upon their man, but that may not matter. If the past holds any clues to possible reactions, Anthony Joshua likely would not, in principle at least, be against allowing a game opponent to come again. For the right price, of course. And in this sort of scenario, both fighters might be able to really see dividends. A close fight or a close decision, and both fighters have been in a few of those, might mean that the boxing world cries out that they should "do it again". The public's appetite for a Joshua - Klitschko rematch was left unsated by Klitschko's retirement. A third bite at the apple for Dillian Whyte (he and AJ met once professionally where he lost and once in the amateurs where he won) is always seemingly just over the horizon, at least in Whyte's mind. However, the most telling clue as to his proclivity for revisiting tough opponents comes from AJ himself. If Eddie can make the money work, then he confirms, "I'll fight anyone."