Italy 0-0 Sweden 2018 World Cup Play-Off: match report, goals, action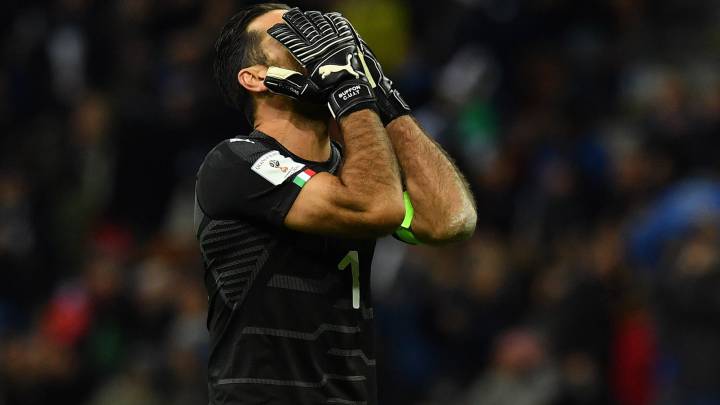 Italy 0-0 Sweden: match report
Draw means Italy won't be at the World Cup for the first time since 1958
Italy failed to reach the World Cup for the first time since 1958 on Monday as they were held to a 0-0 draw in the second leg of their play-off at the San Siro by Sweden, who qualified with a 1-0 aggregate victory.
The four-time champions dominated possession but struggled to create enough clear-cut chances, as Sweden secured a first appearance at the finals since 2006 courtesy of Jakob Johansson's first-leg strike in Stockholm.
Johansson was subbed in the first half with a knee injury as they lost their goalscorer and there were several yellow cards in an exciting first 45. It was much of the same again in the second half when Sweden pushed all the way back into their penalty area.
Italy had chances and penalty shouts but none of them convinced Spanish referee Mateu Lahoz. They didn't convince fully either as, while Sweden had there backs to the wall, they never broke them down for any clear-cut chances.
Gianluigi Buffon, who said he will retire from club football unless he win the Champions League, is expected to hang up his gloves after 20 years in goals for the Azzurri and the draw, and loss over two legs, brings to an end an incredible run at the World Cup for the four-time winners and two-time runners up of the tournament.
Italy vs Sweden live stream online: as it happened
90'+5' Italy miss their first World Cup since 1958.
90'+5' It's all over! 
90'+5'   Or pinball or whatever!
90'+5'   Another corner after some ping pong in the box.
90'+4'   Forsberg takes it into thrhe corner. He gives it away and Italy send it towards goal again! It drifts wide.
90'+4' Olsen booked for jumping on the ground. Just one and a half minutes left.
90'+3'   Corner come sin with Buffon up for it. It comes out to Jorginho and he strikes. Very close. 
90'+3'   Two and a half minutes left. Sent towards goal and Granqvist puts it out for a corner.
90'+1'   Yellow for Bernardeschi as he dives in on Larsson. Frustration now for the Italians.
90'+1'   Some pulling and dragging in the area as Italy send another one into the mixer.
90'   Five minutes of added time!
90'   Barzagli pulls Berg down. The two men on the ground. Some previous moments being taken off the clock.
89'   Sweden with a throw. Italy straight back up the field.
89'   Sweden lumping it anywhere not at this stage. Italy camped in their half.
88'   Another ball into the box. So close again as Parolo jumps highest and heads towards goal. Immobile can't reach it.
87'   El Shaarawy absolutely stings the hands of Olsen in goal with a volley. He has it again in the box but it's cleared. 
87'   Plenty of attacking from Italy but no real chances. 
86'   Belotti strikes just wide.
85'   Another chance for a free. Cleared away again!
84'   Forsberg puts Thelin through. But he's offside.
83'   It comes straight back in and it's headed on to the back post. Olsen parries and Immobile can't turn quick enough to get anything on it. He fouls then as Sweden slow down the game.
83'   Italy with another free and will send this towards goal. Poor delivery that Sweden manage to get away.
80'   Sweden with a rare attack. Forsberg chips it to the back post. Berg heads on to Thelin but he can't head it home. Then the follow up goes well over the bar! 
79'   Another penalty shout. Lahoz has a really, really close but decides against it. It did look like a dive. Belotti, I believe, the man who hit the ground.
77'   Bernardeschi with a cross way over the endline. 
77'   Sweden soaking up all sorts of pressure. Chiellini with a run down the left that Ryan Giggs would have been proud off, elbows his way through a tackle and cross. Sweden head it out but the shot by Florenzi is over the bar.
76'   Italy chance goes begging. Belotti with the wayward pass.
75'   Free Sweden. A sea of bodies and Granqvist ends up on the ground. Belotti quite clearly pushed him in the back.
74'   Rohden fouls Chiellini. Chance for them to send a ball into the box with all the big boys in the mixer.
74'   Olsen grabs a strike by Florenzi. Good shot but straight at the keeper.
73'   Italy plot another attack. Ball comes in, a lovely cross too, but it's headed out before El Shaarawy sends another one in with the same result! 
71' Rohden replaces Claesson.
71'   And now a corner for Italy.
71'   Sweden break with numbers. It makes its way to Forsberg but his shot is blocked. There was the slightest hint of hand-ball but nothing doing. Sweden keep it but it ends up in Buffon's arms. 
70'   Thelin booked now for an arm to Bonucci's face. Looked a little soft to be honest.
67'   Another attack is wasted. Bonucci puts it wide this time.
65'   Lustig dives in and cleans an Italian out of it. He gets booked and Italy go close yet again.
64'   So close! It looked it anyway. Immobile strikes from a cross. Nobody in the Sweden defense budges though as it actually went well wide.
63' Darmian off for El Shaarawy and Belotti is on for Gabbiadini. All out for Ventura.
63'   Parolo gives away a throw. Sweden, again, slowing it all the way down.
61'   Gabbiadini gives away a free at the edge of Sweden's penalty area and Olsen can breath a sigh of relief.
61'   Candreva header flies up into the air and Olsen punches it away. It was coming straight down on top of him. What was he thinking. An effort comes at goal, is half-blocked and Italy win a corner.
60'   Thelin now, the substitute, finds himself bearing down on goal but his effort is tame and Buffon is happy to accept.
59'   Chiellini gives the ball away and Berg has it but his chipped cross from the right is cut out and Italy start another attack. Sweden having to soak up a lot of pressure.
57'   Chiellini has a strike now with a ball that is pulled back. Olsen jumps on it. It bobbled up awkwardly to him but he saved it anyway.
55' Thelin replaces Toivonen.
55'   Belotti is warming up now and ready to come on.
55'   Italy wind up again!
54'   Ball comes in from the right from Darmian. Florenzi has an effort on the volley and it goes just inches wide.
51'   Another penalty shout? Berg pulled down there? Ball rolls to Buffon but the Swede doesn't even call for a penalty. Strange one.
50'   Sweden win it back. They hit it long but nothing.
49'   Italy set up to start again!
48'   Darmian took a knee to the groin. Looks sore and he is in some pain. Bernardeschi is warming up.
47'   Another penalty shout. Ball comes in from the right and Darmian controls it with his arms before being taken out of it by Lustig. Free to Sweden.
46'   We are back underway at the San Siro.
45'+3'   That0s it for the half! What a 45 minutes we just watched. Incredible stuff. Italy probably won't think so but that was as exciting as any game in the qualifiers.
45'+3'   Larsson free and surely the last action of the half. Buffon punches the ball and it falls to a Swede. He sends it towards goal and Buffon looks to be fouled as he backpedals. Italy get it away.
45'+3'   Ventura being told to keep his staff in check. Mateu informs him to silence them as he must be getting some abuse form that part of the sideline.
45'+2'   Darmian cross is way over and wide. Went out of play well before it reached the goal.
45'+1'   Toivenen fouls. Italy on the move forward yet again.
45'+1'   Another chance. Candreva tries to cross but Sweden win it and win themselves a throw. No hurry on this one. They'll try to slow it all the way down and kill the two minutes left of the three added on.
45'   Sweden pushed all the way back now and hanging on for dear life! 
45'   Florenzi arrives in from the left and drives a shot towards goal. Reall good save by Olsen. 
44'   Ball comes in and Bonucci heads just over.
43'   Berg fouls Jorginho.
43'   Another chance! Ball comes to Parolo from the left and Sweden again scramble away. Can they hold on until half-time.
41'   Immobile pops the ball to Gabbiadini after doing good work on the edge of the penalty area. The Southampton striker drives his shot over the bar.
40'   CHANCE! WHAT A CHANCE! Immobile is through on goal and he strikes, beats Olsen. The keeper gets a touch on it to slow it down and as it trickles towards goal, Sweden get men back and clear. So unlucky.
37'   Berg fouled by Chiellini now..
36'   Candreva with a speculative effort. He's probably blessed that it was blocked. That wasn't going anywhere.
36'   Barzagli and Berg do battle again. Free to the Italian.
35'   Ball arrives into the box and Olsen takes it down tamely. 
33'   Darmian tossed to the ground by Claessen out on the left. Free and they take it quickly. Looking to push Sweden again. This is all happening so fast. Italy are hyper.
31'   Italy attack! No way through though. They are pushing people up the field and could be caught on the break. Immobile pushes a defender in the back get the advantage and he is whistled. He was offside too for the double foul!
29'   Depending on interpretation of the rules but from this angle, that's two penalties for Sweden that haven't been given!
29' Yellow card for Forsberg.  Sweden break and the attacker sends a ball towards Barzagli. It catche shis hand! He then chases the ref and shouts in his ear before being booked.
28'   Bonucci is injured now as he hobbles off the field. Looks to be his knee. He is having some spray applied and could continue. Down to 10 men for now!
28'   Ball comes in from the left from Immobile and it rolls across goal waiting to be tapped in. Florenzi arrives on the scene and absolutely smashes a shot over the bar. So close! Nervous few minutes for Sweden.
27'   Candreca on the right. He pulls it back but it's cut out again. Italy win it straight back.
26'   Sweden push forward again but Jorginho cuts it out for a throw. Sweden taking their sweet time over every restart. We'll keep an eye on how that progresses throughout the game.
25'   Darmian with a really poor cross that Sweden cut out and start a counter with.
24'   Candreva sends a teasing ball into the box but just Swedish shirts waiting for it. There were blues ones but none of them close enough to it.
24'   Sweden not sitting back and trying to protect their lead here. Probably a smart strategy as they know they're going to probably need to socre. 
23'   Strike! Claesson strikes at Buffon but the veteran gets down well to his left and saves, and also saves it from going out for a corner! Italy on the front foot again.
22'   Barzagli gets a yellow for a foul on Forsberg. Catches him late and knew what he was doing too.
22'   Berg down now as he gets a face-ful of Barzagli's elbow and forearm.
21'   Corner is poor though and Sweden clear at first ask.
20'   Candreva wins a corner for Italy. 
18' Svensson does indeed replace Johansson. unfortunate for the hero in the first leg.
18'   Doesn't look great for Johansson as there was nobody near him when he hurt himself. He just grabbed his knee as he turned and they are never good news. 
17'   Johansson down in a heap now as he receives treatment. Stretcher and all on the field.
16'   Strike hits the side-netting from Immobile. A really, really tight angle but he came close. 
13'   Hand-ball claim for Sweden. The ball arrived into the box and it was kicked onto Darmian's hand. Looked fairly clear-cut. Italy breaks and Parolo shoots first, that's blocked and the Florenzi shoots wide.
13'   Really unnecessary from Chiellini as he throws his shoulder into Toivonen's chest with the ball in the air. Free for Sweden as the attacker is peeled off the ground.
12'   The Italian home support getting antsy with how slow Olsen is taking his goal-kick.
12'   Barzagli heads wide. 
12'   Corner for Italy.
10' Florenzi fouls as Sweden try to counter. Sweden slow the free right down.
7'   Now Johansson is booked for going in late on Parolo.
7'   Parolo goes down under a challenge from Candreva. No chance really of a penalty. Two legs got caught up together.
7'   Italy want a penalty. Parolo is taken down, Chiellini is booked now for saying something to Spanish referee Antonio Mateu.
7'   Quite a sloppy start as expected. Lots of nervous from both sides. 
4'   Bonucci clears and Gabbiadini is given a free. Larsson draped all over his back like a cape.
4'   Granqvist with a no-nonsense clearance as Italy try to break. Up into the Milan night sky. Immobile offside as it comes back down toward shim.
2'   Larsson tries to thread one into the middle of the Italian defense and it comes back at him. Italy recover and start their own attack. Immobile fouls Granqvist.
1'   We have action at the San Siro.
Rousing rendition of Italy's national anthem. There might have even been a few tears if that had another two verses.
The Swedish national anthem. Plenty of apprehensive faces in the Swedish line-up.
The stands in green, white and red at the San Siro. 
Italy have never lost a World Cup qualifier on home soil, which sees them through 54 games. They have failed to win just eight of those games. Will it be nine tonight? 
This could be the first World Cup Italy have missed out on since 1958. Some of the best players of their generation including the likes of Buffon would hate to have that on their C.V. This is going to take a massive reaction from Italy.
This is a nice stat but undefeated won't be good enough if they dn't win tonight. Italy are undefeated in their last 7 home matches against Sweden in all competitions.
Italy have kept a clean sheet in 5 of their last 7 home matches against Sweden in all competitions.
Sweden in the driving seat, you might think, but an early goal and Italy will have the momentum and Sweden could very easily blow their chances. It'll also be interesting to see if they have a couple of tactics depending on how the game goes.
Simeone Zaza would have been an ideal replacement up front but he remains sidelined with an injury. It'll be up to Gabbiadini, who has played 11 times for Southampton in the Premier League this season and scored three goals, along with Ciro Immobile, who has 14 goals in 11 games in Serie A. 
Janne Andersson makes two changes from the side that beat Italy in the first leg. Lustig comes in for Krafth and Ekdal makes way for Johansson. He was the goalscorer the last day! 
Sweden XI: Olsen; Lustig, Lindelof, Granqvist, Augustinsson; Claesson, Larsson, Johansson, Forsberg; Toivonen, Berg.
Gian Piero Ventura makes three changes for the return leg against Sweden. One of those was forced with Verratti picking up another yellow and is suspended. He is replaced by Jorginho. Meanwhile, Florenzi replaced De Rossi and Gabbiadini replaced Andrea Bellotti. 
Italy XI to play Sweden: Buffon; Barzagli, Bonucci, Chiellini; Candreva, Parolo, Jorginho, Florenzi, Darmian; Immobile, Gabbiadini.
Some of Italy's older players are preparing for a game like they have never played before. The like of Buffon, Barzagli and De Rossi have all very different reasons for needing to win this game. 

If you're looking to get yourself in front of a TV screen for tonight's crunch clash at the San Siro, then you may wish to peruse our useful guide on how and where to watch. 

Simone Zaza has been in outstanding form for LaLiga's surpirse package this season, Valencia. Not only are his goals helping his side to stay close to Barcelona at the top of the table the Italian striker is looking at some personal records too.
  Don't expect too many goals in this match. Four of the last six occasions where these teams have met have ended in a 1-0 victory, three of them to Italy. The other games finished 2-1 for the Azzurri and 1-1. (OK, we've probably ensured a seven-goal thriller with that comment!)
Should Italy fail to get past Sweden this evening it's quite possible there will be a raft of retirements that will change the face of the Azzurri overnight. Among the current squad Gianluigi Buffon (39), Andrea Barzagli (36), Giorgio Chiellini (33) and Daniele De Rossi (34) would all likely consider their futures ahead of another gruelling qualification campaign for Euro 2020.

Italy vs Sweden live online: preview
When the qualifying round draw was made in July 2015, few could have imagined that four-time world champions Italy would end up in their current, precarious situation – just 90 minutes away from being knocked out of a tournament they have missed just once – in 1958. And just to rub it in, they will be facing the country which hosted that edition of the World Cup, Sweden. At least Gian Piero Ventura's team will be on home turf for this decisive Play-Off – not that that will ease their nerves. Ventura has had to endure his fair share of stick for how his team is playing and sticking with an impractical 3-5-2 system which has only clogged up the midfield and has deprived Belotti and Immobile of service. That was born out in the stats – just one shot on target over the 90 minutes of last week's game. The local media has been trying to drum up support and belief from the public with rallying headlines filled with bravado: La Gazzetta called for San Siro to "Rise and do your thing" while Corriere dello Sport chimed "[We are] Ready for the biggest challenge".
Sweden want to be in Russia next summer just as much as Italy do and they hold a one-goal advantage from Friday's first leg in Solna - Jakob Johansson's deflected shot flat-footing Buffon on the night. The Scandinavians just pipped Holland to the Play-off stage by having a better goal difference. They suffered three defeats in the qualifying round, losing to France, Bulgaria and Holland – all away from home. Janne Andersson's team will surely play a similar, high tempo, high pressing game like they did at the Friends Arena so that the Italians don't get a moment to settle. The longer they can do that, the more likely frustration will start to creep into the hosts and the greater their chances of riding out the minutes to cling onto their lead, or even add to it.
Italy team news
Ventura said that he will make changes to the side that lost in Sweden four days ago with Andrea Belotti looking likely to be dropped in favour of Manolo Gabbiadini. Marco Veratti is suspended after picking up a booking in the first leg – Lorenzo Insigne will take his place in midfield. Daniele De Rossi could also step aside and make way for Roma's Alessandro Florenzi.
Sweden team news
Andersson is in the privileged position of having no injury or suspension worries ahead of the game. He is likely to field the same XI that did exactly what he asked in the first leg. The coach said on the eve of the game: "We shouldn't be cowards, we must show our value and be daring – not simply try to spend 90 minutes defending the result from the first leg – Italy are far too skillful for us to attempt that. If we are too defensive, you can bet that we'll be made to suffer".
Italy v Sweden selected betting live odds:
Despite having a one-goal deficit to turn around, Italy are the bookmakers' favourites to win and become the penultimate European side to seal their place at next year's finals. Sweden are priced at 13/2 to win the game and the same odds are being offered for it to end 1-1 on the whistle. It's 7/1 to end without any goals at all but Marco Parolo is at 14/1 to find a way past Robin Olsen at any point during the game, and Marcus Berg, who bagged six in qualifying, is at 10/1 to net the last goal of the game.
Bet on Italy v Sweden in the 2018 World Cup Play-offs now