WORLD CUP 2018
Samba Show rolls into Vienna, as Brazil see off Austria comfortably
Jesus, Neymar and Coutinho all find the back of the net to give Brazil an easy 3-0 victory against Austria at the Ernst-Happel-Stadion.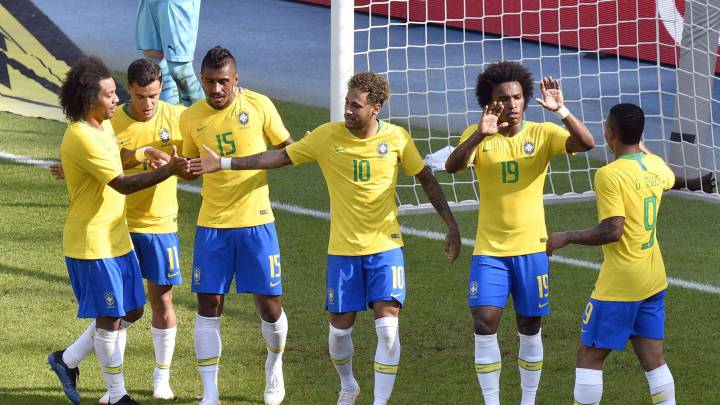 Austria vs Brazil: Match Report:
Brazil head to Russia with a spring in their step, after they comfortably saw off Austria to win 3-0 in Vienna. The game was a relatively lull affair -- as expected in these World Cup warm up friendlies -- but with some flashes of brilliance from Brazil's star men, showing why their one of the favorites to lift the World Cup trophy.
With two-thirds of the possesion, Brazil dominated the first half and had plenty of chances. Austria held out well until the 37th minute, when Marcelo's strike from 40 yards out took a lucky deflection that ended up at the feet of Gabriel Jesus by the corner of the six-yard box. The Man City striker easily slotted it past Lindner to give his team a 1-0 lead, although replays later showed that he was in fact offside. The linesman did not raise his flag however and the goal stood.
Austria managed to create a few chances with the little possesion they had. Star man Marko Arnautavic was fed a couple of lovely through balls, and the West Ham player should have done better to get on the end of them to trouble Alisson in goal. But he didn't and the first half ended with Brazil one-nil up and looking comfortable.
The second half was a similar story, only Austria had even fewer chances than the first. Brazil really began to wear down their opponents, who were clearly tired from spending so much time chasing the ball.
The inevitable second goal came in the 63rd minute. Willian on right hand corner of the box squared a chip pass to an unmarked Neymar, who used a wonderful piece of skill to dance past one defender and then put the ball through the legs of the keeper to score his 55th goal for his country. The third goal came just five minutes later, and was another piece of brilliance from the men in yellow. A lovely one-two between Countinho and Firmino set the former off down the left and one-on-one with the keeper, whom he easily curled it past to find the bottom right corner.
Brazil continued to put pressure on the Austrians and could have scored more, but the game finished 3-0, giving the 'Selecao' 11 wins from their last 11 outings. They will head to Russia extremely confident and determined to banish the ghosts of the 7-1 home defeat against Germany in the World Cup final four years ago. With the likes of Neymar and Coutinho firing on all cylinders, they will be hard to stop on the road to the final in Moscow.
Austria vs Brazil live feed:
92' And it's all over!!! Brazil now with 11 wins from 11, seeing off the Austrians comfortably. Coutinho and Neymar were impressive and will fight for the man of the match. And that's it from us. Thanks for joining us!
Brazil piling on the pressure, can they net one more before the end?
86' A long range effort from Arnautavic for Austria! That was a strike from West Ham man, it smashes the side netting! Close but Alisson would have had it covered it seems
84'   And Neymar comes off. Costa on. Neymar has had a game fitting of his name; 55 goals now for Brazil, only Ronaldo and Pele have scored more.
80'   Great strike from Hierländer for Austria! That was their first real test for Alisson but he saves well. Austria have really brought nothing to this second half. It's the samba show we expected. 
78'   Brazil rushg forward again but the though ball for Firminho is weak and ends in Lidner's hands. A let off there
76'   Brazil make their 5th change: Coutinho off, Taison on
74'   Countinho with a beautiful strike from 18 yards out, rattles the cross bar!! He's had an impressive game, defintely a man of the match contender. 
69' Coutinho makes it three!!!!! A lovely one-two with Neymar puts the Liverpool man through, he goes one and one with the keeper and easily slots it past him. Another beautiful piece of play from Brazil. They've finally worn the Austrians down, there could be a few more goals here. 
63'   Willian dinks it across for Neymar, who shows a beautiful piece of skill to take it around the defender and cooly slots it past Lindner. 
63' Goalll!!!! Absolute beauty from Neymar
60'   Two changes for Brazil. Marquinhos and Fernandinho are introduced. 
57'   Two changes for Austria: Hierländer and Burgstaller on for Schöpf and Schlager
56'   Another heavy challenge from Austria leads to some pushing and shoving. Neymar letting Schopf how he feels about that tackle on Coutinho. Do Austria realise this is a friendly??
55'   Foul on Nermar and he's down. A rough and late challenge from Prodl earns him a yellow card. Neymar is up and walks it off. 
54'   Austria have seen a bit more of the ball so far in this half. 
52'   Willian takes into the box but his shot is blocked. The Chelsea man is taken to the ground and Brazil weren't happy with that. A little scuffle ensues but the ref soon breaks it up. 
49'   Marcelo puts a nice ball through for Danilo who would have been away, but this time the linesman calls offside.
46'   Brazil get us underway. Foul by Paulinho in the center of the pitch. Austria work it forward. Trying to build something
  And the teams come back out for the second half. No changes for either team.
And that's half time!! As expected Brazil have dominated possesion and have put plenty of pressure on Austria. Austria held out well until the 37th minute and were unlucky to concede a goal, as it seems that Jesus was offside when the ball came through for him from a rebound from Marcelo's strike, which he managed to put into the corner. Austria have had some chance but haven't done much to trouble Lidner in goal. But it's generally been a lull affair, as expected in these world cup friendly warm up games.
46'   An Austria with last chance! Great ball into to the box for Arnautavic, who fails to control it. He should have done better! 
45'   Great play from Coutinho who chips it over the defence for Jesus, but he is bundled to the ground and it's easily picked up by Lindner
44'   It's been a quiet spell for the last few minutes as the teams prepare to hear the half time whistle. 
38'   Looking at the replay, and yes it does seem that Jesus was offside for that goal. Brazil were lucky the linesman didn't see it.
36' Goal!!!!!! Marcelo's 35 yard strike rebounds and lands at the feet of Jesus. Who puts it past the keep at the corner of the six yard box. Great finish from the Man City man. 
34'   Silva with a great chance with a header from the Corner by the conrer of the six-yard box. But it just goes wide. 
29'  29' Brazil GK Alisson has gone to the floor. He's seen to by the physio and soon gets back to his feet. 
26'   Casemiro foul on Arnautavic. Free kick in a dangerous position. Alaba swings it in. Good delivery but cleaned up by Brazil and their back in possesion
25'   Countinho beats one, hits one low and hard from 25 yards out. Lindner saves and it's out for a corner. 
24'   Mexican wave goes around the stadium... a sign that the game has been a relatively lull affair so far
22'   Another change from Arnautavic inside the box after some lovely one touch passing. He puts just over the bar just outside the 6 yard box. He should have done better with the space he was given
21'   Great passage of play from Austria. Alaba puts a through ball into to the box which almost finds Arnautavic by the penalty spot. But he can't get a foot to it. That's better from Austria
20'   Alaba corner is cleared out. Schopf hits a volley with his first touch from 30 yards out. Not a bad effort, bounces just wide. 
18'   Neymar with a clean strike from about 35 yards out! But ends in the hands of Lindner. Brazil finding their groove. How lon can Austria hold out?
17'   Austria finally get a chance to passs around the ball, but it's wasted by Baumgartlinger. Out for a goal kick. They'll need to do better to trouble this rock solid defence, which hasn't conceded a goal in 394 minutes now
13' Great through ball from Marcelo to find Neymar at the edge of the box, who put's in a cross for Jesus. He can't get a head to it. Cleared away from Austria
10'   Austria have been the more physical side. They don't have a World Cup to worry about. They're getting stuck in
8'   First strike from Casemiro just outside the box. A rocket hits the side netting!
7'   Brazil holding possession and passing it around, but not doing too much to trouble Austria's defense yet
4'   Foul on Neymar from Schopf. He was holding his ankle but he's ok!
3'   Nothing from the corner and Brazil have possesion now 
2'   Austria have had all the possesion and win a corner
The Austrian anthem rings out in the packed Ernst-Happel-Stadion
The teams are in the tunnel and getting ready to come out
Brazil warming up earlier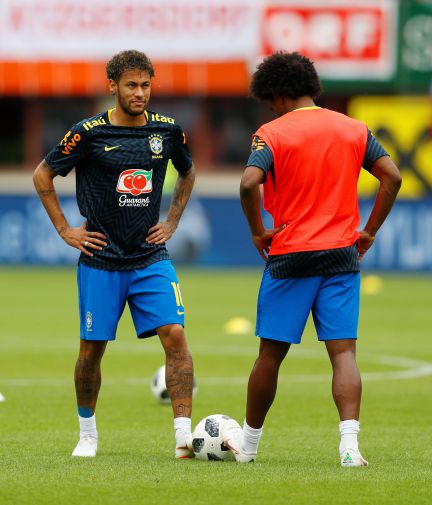 Brazil will have to keep their eye on West Ham's Arnautovic. Another man keeping his eye on him is Jose Mourinho. Will he be at Old Trafford next season?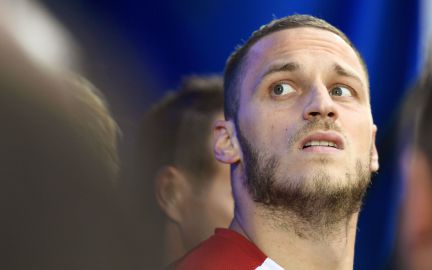 Hello and welcome to our live coverage of Austria v Brazil at the Ernst-Happel-Stadion in Vienna. Kick off at 1600 CEST. You can follow every kick of the ball here!
Austria vs Brazil Preview
Brazil travel to Vienna for their final World Cup warm-up game against Austria, with talisman Neymar fit and set to make his first start for the 'Selecao' since returning from an injury that had kept him out of action since March.
Brazil have won their last 10 games on the trot and will be hoping to keep their impressive run going, as they head to Russia as one of the favorites and desperate to banish the ghosts of the 7-1 home defeat to Germany in the 2014 World Cup final. Aside from their obvious attacking finesse, Brazil have a rock solid defence that has not conceeded a goal in 387 minutes of play. They come into a game having beaten Croatia 2-0, a game in which Neymar came off the bench to score an incredible individual goal.
Austria will not be a walkover however and have an outside chance of spoiling Brazil's winning streak. Franco Foda's men had a dissappointing qualifying campaing, finishing fourth in their group behind Serbia, Ireland and Wales. But they go into the game undeafeted in their last 8 games. They have won seven games in succession, the last of the which was the surprising 2-1 victory against World Cup holders Germany. The Austrians will be putting their hopes on West Ham's Marko Arnautovic (a prime target of Manchester United manager Jose Mourinho) to end the Brazilian defences run of clean sheets, while Bayern Munich's David Alaba is the other man to Foda's side who could cause Brazil problems.