Hazard: "My post-match burger made me a legend in Belgium"
The Chelsea star recalled tucking into a post-match burger back after an international game against Turkey. He was later fined for the 'Burger-Gate' episode.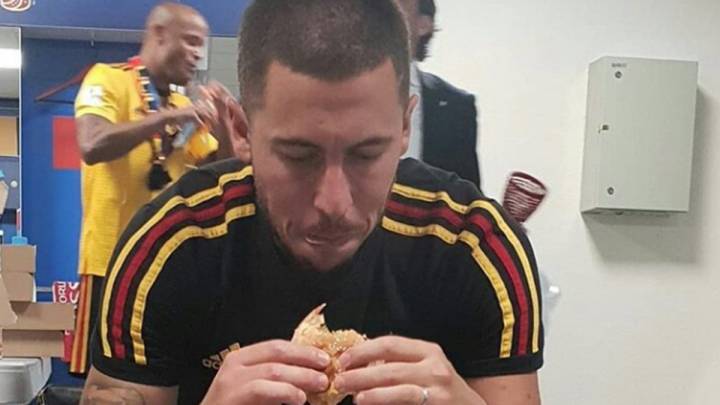 Today, Eden Hazard is among the top players on the planet, and enough years have passed for him to recognize the mistakes he made in his youth - two such incidents gained him a certain amonut of notoriety. In May 2012, Hazard accepted the challenge of joining Chelsea, but ended the season with Lille. On the day he signed his contract, he went out to celebrate with team mate Rio Mavuba and the pair stayed out into the early hours of the morning - apparently oblivious to the fact that the team had a match the following day. "We decided to go out for a drink and things goy a bit out of hand. The next morning, Eden was still drunk. He hadn't slept, he spent the whole night drinking and scored a hat trick in half an hour", Mavuba recalled.
Night on the town
Hazard has never verified whether that tale was true or not but the second infamous incident has been confirmed by the Chelsea star. Back in 2011, Hazard was substituted during Belgium's Euro 2012 qualifier against Turkey and decided to leave the stadium and treat himself to a hamburger with some friends. For quitting the stadium without permission, the player was handed a two-match suspension (he missed the games against Slovenia and Azerbaijan) by coach Georges Leekens.
Hazard - burger legend in Belgium
Eight years on, Hazard confessed that it was all true and has even elevated him to legendary status back home in Belgium. "The relish on that burger was my favourite… I still ask my Mum to bring me some over when she visits London. It was stupid thing to do - that whole incident with the hamburger… We still laugh about it now though. It made me a legend with the national team", Hazard admitted in an interview with RTBF.
He also spoke about his future with Belgium - just as he is about to gain his 100th cap. "I haven't set myself any personal goals. I've always said that I'll continue playing until my body allows me to, but it will also depend on the next generation of players. If I see a young player in my position then I'll make way for him. When I first started out, someone else had to drop out. I'm still young but I think Courtois will eventually beat my record - especially if he continues playing until he's 38. He might turn out to be like Buffon and play until he's 40. I'll try to continue as long as Thibaut's there..." he explained with a chuckle.