SUPER BOWL LV 2021
Raymond James Stadium in the Super Bowl: how many NFL finals has it held?
As we ready ourselves for the Tampa Bay Bucs vs the KC Chiefs in Super Bowl LV, we thought it would be worth looking back at the history of NFL finals at this venue.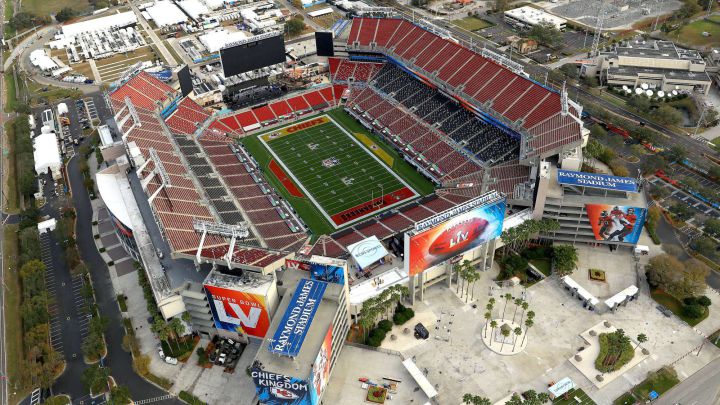 Tampa in Florida is rather familiar with the idea of hosting a Super Bowl. Having seen four previous editions come to town there is no doubting that this season finale between the Tampa Bay Buccaneers and the Kansas City Chiefs will be in safe hands. Indeed, before a ball is kicked in anger the Raymond James Stadium will make history, but more on that later.
Raymond James Stadium: when did it host the Super Bowl?
This stadium has held two Super Bowls before, in 2001 and 2009, but it is worth noting that the 1984 and 1991 versions were also hosted close by, but in the old Tampa Stadium, which was demolished in 1998.
The 2001 final saw the Baltimore Ravens tear up the New York Giants 34-7 on 28 January, with Ray Lewis coming away as MVP. Of the 54 Super Bowls to date, that remains the seventh biggest margin of victory.
In 2009 it was a much closer affair, with the Pittsburgh Steelers leaving with the Vince Lombardi Trophy, and becoming the first team to win six. Their triumph came at the expense of the Arizona Cardinals by 27-23.
After significant development in 2016 - with an outlay of around $140 million - the new look Raymond James is a more than fitting stage for any major spectacle. There is no doubt that pitting a theoretical triple-Hall of Famer in Tom Brady against the hottest quarterback around in Patrick Mahomes deserves such a backdrop.
Raymond James Stadium: some interesting info
I mentioned earlier that by hosting this particular game, the Raymond James Stadium would make history. The reason for this is because it will be the first time a team will play on their home turf in the Super Bowl, something the locals are hoping will give them an advantage, although clearly the numbers in attendance are significantly diminished.
Raymond James Stadium info:
What is the capacity? 65,000, although this can be increased to 75,000
What was the first game played here? Tampa Bay Buccaneers 27-15 Chicago Bears - 20 September 1998
Does the stadium have a nickname? Well, yes, at least for the local supporters who refer to it as 'Ray Jay'
Did Walt Disney do something here? Yes, you heard right! A prop creator from the entertainment company build a 103-foot replica of a pirate ship, which sits proudly, and menacingly, above the North end zone.
Interestingly, this year's event was not originally scheduled for Tampa, but instead for the new SoFi Stadium in Los Angeles. A delay in its completion, however, for those plans to be changed. Here are some other nuggets of information.
So how do they choose the Super Bowl venue anyway?

It may not surprise you to know that the weather that can be expected in your state in February is an important factor when it comes to selecting a location for the Super Bowl. There is, of course, a bidding process and a number of requirement boxes that must be ticked.
Here's our look at the Super Bowl venue decision making, which includes information on where the upcoming events will be held.
Super Bowl LV: find out more
For up-to-date Super Bowl LV news, including all the event information, download and register for the NFL OnePass app at NFL.com/OnePass. Here at AS English, of course, we'll continue to bring you all the latest news, opinion and points of interest in our daily live blog as we build up to the big day.