L'Équipe: Neymar Sr's exorbitant demands scuppered PSG move
The French daily reports that the Barcelona player's father asked PSG to pay Neymar's tax fines with the Brazilian authorities, which put the Ligue 1 club off. PSG vs Bayern Munich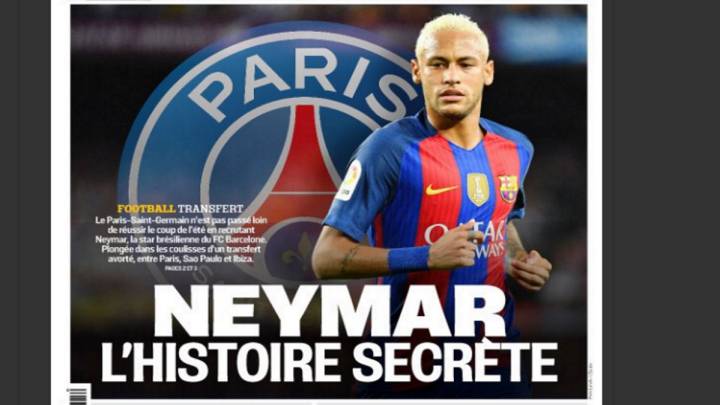 Manchester City - Barcelona Live!
Neymar spoke to PSG about a potential move to the Ligue 1 giants last summer, a fact admitted by the player and his agent, Wagner Ribeiro. According to Ribeiro, PSG were willing to meet Neymar's buy-out clause of 190 million euros and to pay the Brazilian a salary of 40 million euros a year as well as providing a private jet and a chain of hotels bearing the player's name.
PSG cool interest over salary demands
However, L'Équipe ran a story on Tuesday stating that although negotiations took place, PSG baulked at the salary demands made by Neymar's father and a request that the club pay Neymar's fines for tax evasion.
"Obscene" amount
PSG owner Nasser Al-Khalifi travelled to Brazil to meet Ribeiro and Neymar Sr, but was put off by the demands laid out before him. Firstly, Neymar Sr asked for an annual salary of 40 million euros for his son, which PSG considered an "obscene" amount, according to L'Équipe.
45-million-euro tax bill
But the main stumbling block was the request that PSG pick up the tab for Neymar's fines from the Brazilian tax authorities for evasion and fraud committed between 2011 and 2013 when the player used companies fronted by his father to conceal earnings. Those fines run up to a total of 45 million euros.
PSG have themselves fallen foul of Uefa Financial Fair Play rules and refused point blank to entertain the idea.
Neymar has since renewed his contract at Barcelona with an annual salary of 15 million euros, considerably less than he reportedly asked for at PSG, and with a buy-out clause of 250 million euros.