Iniesta: "I wanted the ball, I wanted to be decisive"
The former Barcelona and Spain midfielder spoke to AS about his seminal goal at the 2010 World Cup and his final tournament in Russia in 2018.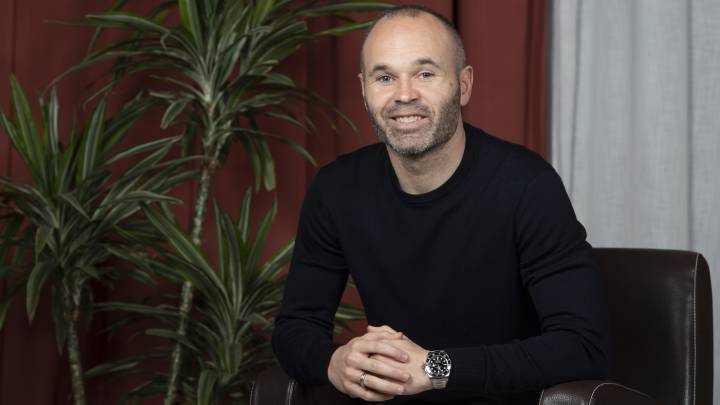 Andrés Iniesta will always be remembered for delivering the goal that sealed Spain's World Cup victory in Johannesburg in 2010. The then-Barcelona midfielder hit the winning goal against the Netherlands in the 116th minute to hand Spain a first World Cup win, which was sandwiched by two European Championship victories in 2008 and 2012 that confirmed La Roja as the pre-eminent side of the era. July 11 marks 10 years to the day since Iniesta's defining strike and the Vissel Kobe player spoke to AS to remember the occasion.
When you speak about Andrés Iniesta it's impossible not to mention the goal in South Africa that landed Spain their only World Cup. You were capped 131 times, but it could have been more if not for injuries.
Yes, it could have been more… or less, depending on how you look at it. At the end of the day I'm happy to have been there for so many years. That's what I take away from the experience and what matters most to me. I represented Spain for 12 years. Injuries meant I missed some games but overall, I'm proud to have worn the shirt for so long.
"Thinking about how many goals I scored isn't what matters"

You scored 14 times for Spain… too few, about right, or does the Johannesburg goal count for 14?
It's the number it is. I'd like to have scored more, of course. But the important thing is that I really enjoyed my time playing for Spain. There were difficult moments and unique moments, some of the best of my career. Thinking about how many goals I scored isn't what matters. I prefer to remember everything else.
Talking of goals, Luis Aragonés was a bit obsessed with the theme. I understand he told you once: "Andrés, you have to shoot more."
That's true… he said I should be a bit more goal-minded and I tried. It's not that I didn't want to have a shot at decisive moments because everybody likes scoring goals. But I maybe had a different mentality to look for the pass or another option before having a go myself. When I did shoot, it was because I thought it was the best option at the time.

When did you first become attached to the national team?
I remember the World Cup in 1994 very well. I was 10 years old and it's imprinted on my mind. We were so close… it was an excellent squad with some great players like Luis Enrique, Caminero, Guardiola, Goicoetxea… That's my first memory of La Roja.
You worked your way through the junior Spain sides from the under-16s up to the seniors as you did at Barça during the same time… it seems like you were born to play for Spain.
Barça and Spain have been my two teams and the two ran practically in parallel. They were both dreams that I was able to make come true. Looking back, it's nice to remember so many games for both.
The only thing you haven't won is the Olympics. Do you sometimes think about it?
I've thought about it but it's not like I feel I've got a monkey on my back for not having played at the Olympics. I've played at World Cups and European Championships but the Games just didn't happen.
Your first goal was against England in Manchester at Old Trafford in 2007. Can you describe it?
El Guaje (David Villa) had the ball on the left. He slipped his marker and crossed with his left foot. David Silva went for a header and the ball dropped to me. I controlled it, the ball bounced and I hit it across the goal… and it went in off the bar, 1-0. It was a nice way to start. It was also when the team started having a lot of stability in terms of style and results.
Everything that followed, the Euros in 2008 and 2012 and the World Cup in 2010, followed a tough time for the team and Luis Aragonés, who dropped Raúl.
When things are tough it's always more satisfying when you go on to achieve what you want to achieve. But yeah, we went through some difficult moments. After the World Cup in Germany, the qualifiers for Euro 2008, it was a complicated time. The gaffer had a rough time of it. Everybody did, the fans as well because they could see that the team wasn't functioning. It was hard, but look at how it turned out.
"You always trust your keeper, and that was Iker"

Euro 2008. Quarter-finals. Penalties against Italy. What went through your mind? Historically quarter-finals and penalties hadn't gone well for Spain…
When you find yourself in moments like that of course things go through your mind. It's a lottery. You always trust your keeper, and that was Iker so it was 100 percent. And you have to trust the takers.
What do you remember most about the final in Vienna?
When Torres scored. That's what remains most in my mind, although after the game with the team was a great moment. When we beat Russia in the semis we started to believe we could win the title.
The World Cup year was a bad one for you personally. I think you had five injuries. But then at the tournament it all came together.
These things happen in life and in sport. The strength in people means that these things happen or they don't. After the difficult moments came the best moments of my life. It took months of work and sacrifice but then everything turned out the way it did.
How did your life change after the goal in the final?
I don't know how to quantify it, but a lot. It was a very important moment. Everything that came before was good, but everything that came afterwards was amazing. It changed everything, but more on the outside than the inside.
You've said you felt an inner strength on the day of the final… how can you explain that sensation to a fan?
I felt really strong, very confident. I wanted the ball, I wanted to be decisive, if there was a player in front of me I wanted to go past him. I felt the confidence to be decisive and that's how it turned out. I've watched the game again and I got better as it went on. In extra time I played with composure and strength. Like everybody, I desperately wanted to win that game.
Do you think you should have won the Ballon d'Or that year?
It's not something that's personal for me. I think any Spanish player from that era would have deserved it. But at the end of the day it's an annex. It's not football in itself.
"I've got over Russia, but I haven't forgotten it"

Could you have imagined after so much success that Spain would go through experiences like Brazil, the 2016 Euros or Russia in 2018?
You can't really imagine things like that. For me, we still had great teams. In Brazil, France and Russia there were lots of the same players and we were still a great team. But when you don't do things well and nothing comes together as you expect it's hard to win. It's not normal to win so much. It's more normal to be there but not to win.
When you announced your international retirement, you said "It's not the send-off I hoped for." Did it hurt to be left out of the side against Russia?
Yes, a lot. It really hurt me a lot.
Fernando Hierro said he explained his decision to you. What did you say?
I spoke to him after the game. I have always respected my coaches. I respected his decision but I didn't agree with it at all. He thought it was best and that's totally understandable because a coach always thinks about what is best, the same as me, but I couldn't agree with the decision at the time. It was tough for me to accept. With time I've come to get over it, but I haven't forgotten it.