Host nation Russia will go into the World Cup in dubious form. Their most recent outing at the Confederations Cup was a good look at their current plight – somewhat erratic (they beat New Zealand but were downed by Mexico and Portugal). Ignashevich and the Berezutski brothers are now remnants of the past in a side still searching for the generational handing-down which would allow them to inject some new and much-needed vitality into the team. They lack short- to medium-term solutions and have been trudging their way through international football's wastelands. Golovin, Smolov and Miranchuk never quite convince, despite their high standing, and in recent years they have given caps to Mario Fernandes and Roman Neustadter, who were eligible to play for Brazil and Germany respectively but were nationalised by Russia, as they look to get more out of a doubt-riddled squad.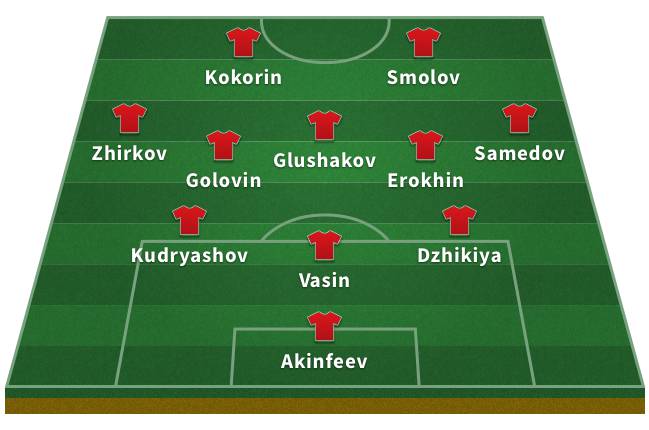 The biggest sides in Russia's domestic league constitute large pools for the national side, yet gone are the days when Russian players moved abroad to gain experience and to feed off other brands of football, something which has hindered not helped the current crop of players. After a period of opting for overseas managers, who also fell short - Guus Hiddink, Dick Advocaat, Fabio Capello – Leonid Slutski took charge of a disappointing Euro 2016 campaign.

DOB.: 02/09/1963
Preferred system: 4-2-3-1
Matches: 16
W/D/L: 5/5/6
Since Slutski's departure, Stanislav Cherchesov has taken over the reins and led the side to the same degree of success. He will have to cope with host anxiety and the eyes of a nation bearing down on his shoulders.
The 54-year-old was appointed after good work with Legia Warsaw and found Russia in a sorry state after the Euros, in which they only managed one draw with England. He has experience in the World Cup as a player as he represented Russia in 1994 and 2002 as the side's goalkeeper.
He arrives with the task of turning Russia into a respectable outfit and his modus operandi is sheer hard work. He played with three centre-halves and two full-backs to give the team more strength at the back. His tactics have to work as making this side tick is a matter of state in the country.
The absence of the injured Kokorin leaves Smolov - a media icon and prolific goalscorer – as one of Russia's leading lights. Smolov has completed his third eye-catching season at Krasnodar - but without challenging for the title – after coming up through the ranks at Dynamo Moscow and a low-key spell with Feyenoord. A nailed-on starter and one of the positives for Russia to come out of the Confederations Cup, he scored twice against Spain in a friendly last November and is clearly Russia's sharpest weapon this summer, offering quality, a good footballing brain and a deadly shot.