For the third time in their history, Egypt will be at the World Cup. Having featured at the 1934 and 1990 editions of the international tournament, they will be in Russia during the summer with plenty of talent to display.
The Pharaohs, who have been successful within their continent in recent years by winning the African Cup of Nations in 2006, 2008 and 2010. They have overcome a crisis since then and qualified for the World Cup just months after getting to the final of the AFCON.
They lost that final to Cameroon but they beat Congo 2-1 in World Cup qualifiers to eliminate Ghana from contention and put themselves in the hat for the World Cup draw.
Their qualification campaign could not have started in a worse way, however, when they lost to Chad in November 2015 in the first game. At home in the second round, however, three days later, they beat their opponents 4-0 to make the qualifiers proper. That trend has continued and they are mightily impressive at home; they have not lost a World Cup qualifying match in Egypt since 2004.
They have a solid defence with a good midfield including Mohamed Elneny from Arsenal, who stands out. In attack, Mohamed Salah leads the line with Ahmed Hassan Mahgoub, also known as Koka and Ramadan Sobhi of Stoke City complementing the Liverpool attacker well.

DOB: 16/11/1955
Preferred system: 4-2-3-1
Matches: 30
W/D/L: 20/4/6
Cúper arrives at the World Cup at 62 years of age having already lead teams like Valencia, Mallorca and Inter Milan in club football.
His only work in international football was with Georgia, where he worked for one year and three months between 2008 and 2009. The results, however, were poor. Since then he has worked in different countries with relatively brief encounters. In 2015, he got the call from Egypt and answered the call.
The manager has figured out a way to incorporate young talent while succeeding in getting his stars to play at their peak in the Egyptian jersey. They are safe in defence and decisive in attack.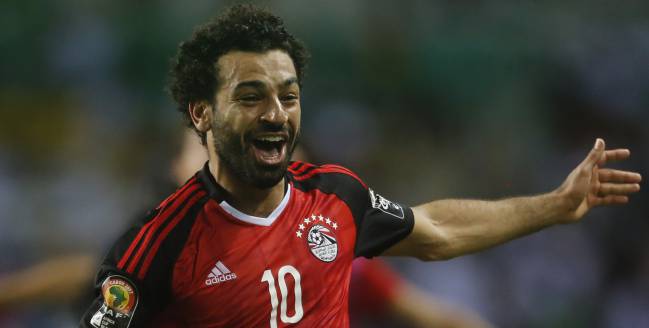 DOB: 15/06/1992
Age: 25
Position: Forward
Club: Liverpool
Height: 175 cm
Weight: 71 kg
Caps: 56
Goals: 32
It almost goes without saying but Salah is the star of the team and the side's driving force. All hopes rest in his shoulders and he is a national icon.
He has experienced a new lease on life at Liverpool and is now being mentioned among the greatest and his contribution to Egypt's qualifying campaign was nothing short of inspirational. He scored five goals and landed the two that beat Congo to seal their ticket to the tournament.
In Russia, he will turn 26 and has matured into a top class attacker. His age, speed, leadership and ability mean he could lead Egypt to an unforgettable summer in Russia.